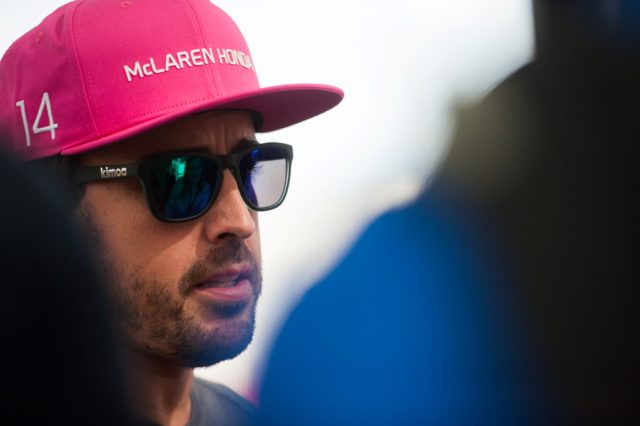 Fernando Alonso and McLaren announced the Spaniard's contract extension a day before the free practices for the United States Grand prix.
"It's a good day for me, announcing next year, I will be back here with McLaren and obviously happy and proud to continue this relationship. It has been three difficult seasons for us, we are not as competitive as we wanted and now I think it's time to change this situation and hopefully next year to be back in the positions that McLaren belongs and hopefully give something to our fans that have kept supporting us for the last three years. That will be the main thing for next year. As I've said, happy to arrive to this agreement at the end."
Alonso also said he does not know what to expect from next season and the switch to Renault power units
"I think every year the projects are a little bit different. You never know what you can achieve with the new cars. Sometimes you go to the first winter test and have a nice surprise and are quicker than you expect; sometimes you have bad surprises and you are a little bit slower and something is not according to plan. Let's see what we can do next year – but definitely very happy again to have a Renault engine on my car. I have a very strong relationship with Renault for many, many years now. I've been working with them since then, even on my karting school etcetera, so extremely proud to also drive for a Renault engine", he explained.
Fernando also stated that his new contract is longer than a 1-year extension. But he refused to say how long it really is, as well as to dwell on his future beyond 2018.
"I think it's just talking too much ahead. We have enough to do for next year, to put McLaren again at the top of the grid and that's the first priority right now. I think on my personal side there are no other priorities than Formula One at the moment but with a door open for different series and different goals that I always believed that you need to win in other series if you want to be a more complete driver, a better driver, because motorsport is not only Formula One. Even if it's still the priority, we will see what the future brings."
There inevitably came a question about Alonso's recollection of his participation in this year's Indianapolis 500 and if he would think of taking part again in the legendary race.
"Well, the moment was… It's difficult to pick up one moment of that month", Alonso admitted
"If I had to chose one, it would be Sunday: the drivers' presentation, the drivers' parade ten minutes before the race. That was an amazing moment: 250-300,000 people in one venue was very impressive, the atmosphere there. But I think the whole months was very unique and opened the eyes a little bit of what I said before: Formula One is just one more series in motorsport, probably the most mediatic one, it's a fantastic show and we all are very proud to be Formula One drivers and we dream from a very early age to become Formula One drivers but there are other motorsport series that are as good as that and you know I'm a fan of this one, so that was a good discovery for me."
"Obviously now, with the new McLaren deal for next year, I can confirm that I will not be at the Indy 500 next year"
"Because there is Monaco Grand Prix on the same weekend and priority next year will be to perform well in Formula One but at the same time I can confirm that I will be in the Indy 500 in the future. I don't now if it will be '19 or 2020 or whenever but it's a race that I definitely will experience again."
He's signed a new contract, now time to get McLaren "back where they belong", says Alonso #F1 #USGP ?? pic.twitter.com/71CIWoDu47

— Formula 1 (@F1) October 19, 2017