For half a decade, almost everything in the lives of the Porsche LMP Team members revolved around the Porsche 919 Hybrid and the company's successful return to the top category at the 24 Hours of Le Mans. On November 18, the most advanced hybrid racing car of its time took to the track for the last time in the FIA World Endurance Championship (WEC). Representing the team, behind closed garage doors, Fritz Enzinger, Vice President LMP1 and Team Principal Andreas Seidl are looking back over an era.
How and when did you actually come to terms with the first Le Mans victory in 2015?
FE: "I remember getting back to the hotel room at about midnight, but I couldn't fall asleep right away. I was filled with relief at the achievement. I was lying in bed going over the sluggish early stages, away from Munich and without my family. Lived in a dull apartment building where only commuters lived. I always got back there after dark, and the stairwell smelled like packet soup. It was somewhere to sleep, nothing more. I remembered the deprivation. But now the race was won and that was incredibly important for Porsche. I was so wonderfully relaxed and happy that I didn't want to fall asleep. I wanted to hold on to that feeling."
"The next morning, I was picked up at six am. It was on the way to Paris that I then saw all the congratulatory SMS messages. That was very real, and there were far too many to answer them all individually. So I sent the same message to all of them: Good morning! Woke up. It wasn't a dream."
AS: "It was only after my return home to my family in Munich that I properly felt it. Since that was when the confirmation came from Le Mans by SMS that all the technical follow-up examinations had been passed. I can never celebrate a racing victory immediately because I always have in the back of my mind what can go wrong later during the scrutineering. At Le Mans, the checks are particularly intensive and last until late Monday afternoon. As a result, I couldn't really celebrate properly on the Sunday evening. But once I was home, I was very happy that we had achieved success as a team for Porsche."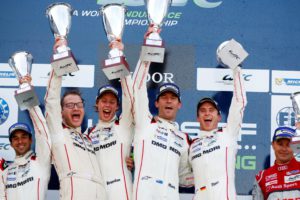 How different is the Le Mans mode from normal operation?
FE: "The focus was always clear at Le Mans. Without victory at the 24 Hours, a world championship is only worth half as much. As early as the roll-out in December, we were always asking the decisive question: Is our package good enough for Le Mans? It was clear: If the car can win there, it can also win a six-hour race."
AS: "There was also a big difference on an operational level. In the two weeks at Le Mans, you go through a lot of extreme situations with your team, both technical and personal. No other race compares. It's a special event format, and the pressure is huge. Everyone knows that they have this opportunity only once a year; there are no second chances. The pressure of being there with Porsche, both internally and externally, is immense. It builds up a little more every day until the cars head for the starting grid. I was always aware that, despite the best preparation, a lot of luck is required even to finish this race and even more to win it. But that was our mission. The challenge of coping as a team in this cage down in the pit is special. And I will miss it. It only happens there."
How much does success have to do with luck?
FE: "You cannot win Le Mans without racing luck. With almost 60 cars on the track and constantly passing others, it doesn't happen without luck. The best team and the best car are not enough if you don't have luck on your side. I am grateful that we had quite a lot of it."
AS: "Winning Le Mans actually needs damn good luck. Not only on the track, but also in the pit, at the pit stops and during preparation. All suppliers must deliver parts with perfect quality, nothing must go wrong when assembling components in Weissach, the operations team has to function perfectly for the two Le Mans weeks… When I think about how many people were involved in the Le Mans operation and everything that could have gone wrong, I am very aware that a huge amount of luck is involved. And then, like Fritz says, you need luck on every corner of the race. Luck that no one hits your cars, that the drivers or the crew don't mess up. But to be in a position to be able to benefit from this luck takes hard work and perfect preparation."
What annoyed you the most?
FE: "It's not in my nature to be annoyed and upset. But I don't like know-it-alls and have made provisions in this regard. We were able to work independently in many respects. This was very important in my eyes. A project doesn't work if there is someone around every corner who wants to get involved."
AS: "I was annoyed by technical defects at Le Mans that occurred there in the race for the first time despite good preparation. Things that had never been previously identifiable. But you have to accept that this is part of the challenge at Le Mans. Statistical reliability is always low due to the large number of factors. Despite the best preparation, it is impossible to completely control all potential technical and human error. In 2017, we were better prepared than ever before. The endurance tests went perfectly, but then we had defects in both cars. I was extremely annoyed. Even if one car wins, after all, it greatly annoys me personally not to be able to give both car crews and drivers the same opportunity to fight for the victory."
"Drivers don't often get the opportunity in their life to sit in a Le Mans car that has the potential to win. And if we mess up that opportunity, then that hurts. A completely unexpected water pump failure robbed Mark Webber of his last chance at a Le Mans victory in 2016, and this year I felt terribly sorry for André Lotterer, who came to us to win Le Mans with Porsche. In this project, this was, unfortunately, his one and only chance. I don't care which of our drivers win. But if we do not give them the opportunity to succeed, then I offer them my sincere apologies."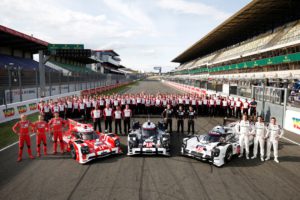 If you had to carry out the whole programme again from scratch, how much or what would you do differently?
FE: "When I look at what we have achieved, it would better if I didn't change too much. With three Le Mans victories and six world championship titles in the last three years, we got as much out of it as we could."
AS: "Fritz passed on to me a lot of the freedom that he was given by his superiors. With this freedom, I was able to set up all of the structures in a way that felt right to me. Success in such a highly complex programme is the result of daily hard work and can only be achieved by a team."
"The team was a good mix of Porsche employees with years of experience in the company and specialists coming from outside Porsche who brought with them very different experiences from a variety of racing series. The strong composition of the team of key figures directly under me, on whom I could absolutely rely even in the most critical of situations, was extremely important. Looking back, we didn't make many mistakes from the beginning. But this kind of project is never perfect, and I would continue working on a lot of the details."
What is the most important lesson for future Porsche programmes?
FE: "The fact that the success of such a project depends entirely on the people. Creating the prerequisites such as infrastructure and budget was my job. But the implementation, the creation of a team spirit and the passion that requires everyone always wanting to be even better in their area – that lies with each individual team member from various departments. Be it purchasing, human resources, marketing, press, physiotherapy or catering. We have built a great team and given everyone the freedom and confidence they needed."
AS: "With long-term motorsports projects, it is important that you agree with top management from the start that you need the appropriate conditions if you want to win. We had that. Budget, structure, courage, backing. The target must be common sense and you have to get up again if you're down. You cannot make many compromises; the competition is tough."
Pole positions, fastest laps, many many race hours led and a manufacturers world championship. No win but in the end we've had a great year together on car #1. Will remember you all forever #919tribute pic.twitter.com/H9GZumky3U

— Nick Tandy (@NickTandyR) November 18, 2017