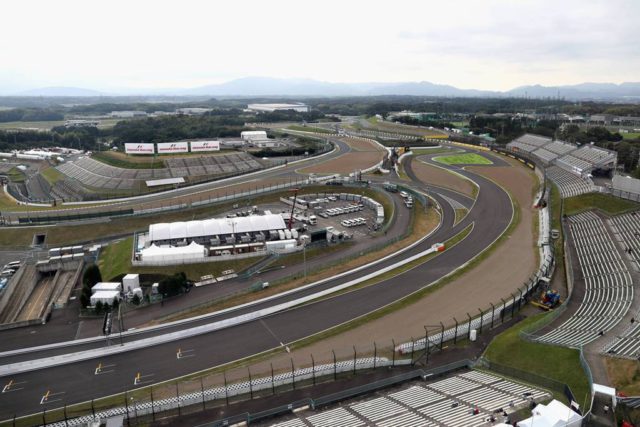 Lewis Hamilton achieved the best time in a very short second free practice before the Japanese Grand prix. Only five drivers made time laps in the session, from which only about half an hour was spent working.
We're taking it a step further. The F1 development race is well and truly on! #JapaneseGP #PinkPanthers pic.twitter.com/C6M5eBa8MU

— Sahara Force India (@ForceIndiaF1) October 6, 2017
The things we bring with us to races, honestly… ? #JapaneseGP #FP2 pic.twitter.com/5GdAsOY2ST

— Renault Sport F1 (@RenaultSportF1) October 6, 2017
??? #JapaneseGP ?? #F1 pic.twitter.com/6IE24oS2zX

— Mercedes-AMG F1 (@MercedesAMGF1) October 6, 2017
45 minutes after the initially announced start time of FP2, the session finally began. The heavy rain stopped fifteen minutes earlier, but the race control waited a bit for the water to drain from the track.
Most drivers were in no hurry to go out. 7 minutes after the green light, Kimi Raikkonen first appeared on Suzuka. Nico Hulkenberg and Jolyon Palmer followed him, checking what the conditions were at that moment. They all made a lap and went back to the garages. Teams and drivers did not want to risk the still too wet track as the forecast is for the rest of the weekend to get better.
Marcus Ericsson was the next competitor who made a tour of Suzuki before returning to his team's garage.
Less than half an hour before the 90 minutes passed for the second Friday session, the rain increased again. Still, Sergio Perez and Esteban Ocon recorded times, with the Frenchman nearly two seconds quicker than his teammate.
Then Lewis Hamilton was fastest with 1:48.719min. Lance Stroll flew off but did not hit the safety barriers and managed to get back on track.
Lewis Hamilton achieved the best time in a very short second free practice before the Japanese Grand prix
Toro Rosso managed to repair the car of Carlos Sainz, who crashed during the first session. The Spaniard also had the opportunity to check the track conditions. 13 minutes before the chequered flag in the standings there were only five times, while the Red Bulls and Valtteri Bottas had never appeared on the track.
In the end, only five drivers recorded times during the session and the teams would use the Saturday free session for the most serious preparations.
What are the scores, George Dawes?

P1 for #LH44 ? #P20 for #VB77 (No time) Just five timed laps in a PROPERLY wet session!#JapaneseGP ?? pic.twitter.com/VvBqNE1Rjp

— Mercedes-AMG F1 (@MercedesAMGF1) October 6, 2017