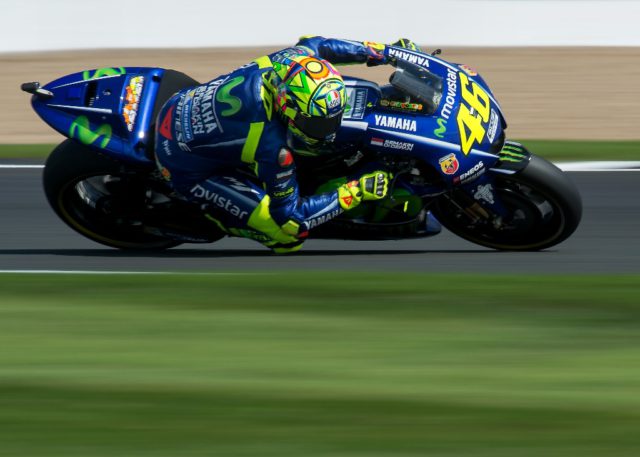 24 days after sustaining a leg injury Valentino Rossi took part in a MotoGP race and finished 5th at MotorLand Aragon in Spain. The Italian megastar of the championship even threatened to take the lead in the early race laps, before settling into fifth place, which he held over the line.
Rossi had a difficult launch from his starting position, he held on to his third place going into turn 1. Seeing Jorge Lorenzo trying to take off at the front on the first lap, the Doctor wasn't about to waste any time and responded by passing his teammate a couple of corners later.
Despite riding with a leg injury, Rossi was pushing to the fullest. The top 4 riders bunched up as the Italian started to pressure Lorenzo, but he was unable to make a move whilst fending off Marc Marquez and Andrea Dovizioso.
With 11 laps to go, fatigue had the number 46 rider slow down a couple of tenths, allowing Marquez and Dani Pedrosa through, but he still had some fighting spirit left. He had the fans hold their breath as he battled hard with his teammate for fourth position, but ultimately took the chequered flag in fifth place, 5.882s from the front.
"I'm quite proud, because a week ago I didn't know if I would be able to race", Rossi admitted
"Achieving a start from the first row was already great, I was very happy. I knew I had to suffer in the second half of the race. I had some pain and we also suffered from the degradation of the tyre. The work continues after this race. The calendar works out well for me. I have two full weeks to train and improve my leg's condition. After this we have Motegi, which is going to be very important, but we also have three races in a row. This will be very difficult for my leg, so I want to try to arrive in Motegi – maybe not at 100% – but quite fit."
What about this guy though – 5th place with a broken leg!

What a ride @ValeYellow46 ?

Injured or not, you can guarantee a ? wheelie!✊ pic.twitter.com/7Ho2Ri3PmL

— MotoGP™??? (@MotoGP) September 24, 2017
Maverick Viñales had a less than perfect start on the short drive-up to the first corner, but he recovered quickly, slotting into second place. However, he had to let Rossi, Andrea Dovizioso and Marc Marquez pass him on the first couple of laps of the race as he was struggling to find grip.
The third lap of the race was a turning point for the Spaniard. He got into a good rhythm and steadily started to catch up with the men in front of him. On the final six laps, when he began to press forward, he first took fifth place from Dovizioso and then proceeded to take on his teammate. With three laps to go, Viñales successfully passed the nine-time World Champion, but the gap to the top 3 was too large for him to close. He crossed the finish line in fourth place, 5.256s from first.
"The hard tyre was working really badly for us, especially on the first laps, but then it was working quite well at the end", Viñales explained
"Not so much in terms of grip, but it was improving lap by lap, but anyway it wasn't enough. Folger used the medium tyre and said he had no grip, so it was really difficult to understand which tyre we could use. For other races it was quite clear, because we were able to do many laps on the tyres so we knew which way to go, but here it was very difficult. I tried to use the same tyre as the opponents. Normally Valentino has a good feeling with the tyres and pushes on the hard option."
"For the next races we will have to work even harder on the Friday. It's important to keep pushing and working and keep our motivation high. We have to work even harder, though it's difficult, and we'll go to Japan to improve and we'll try to be stronger."