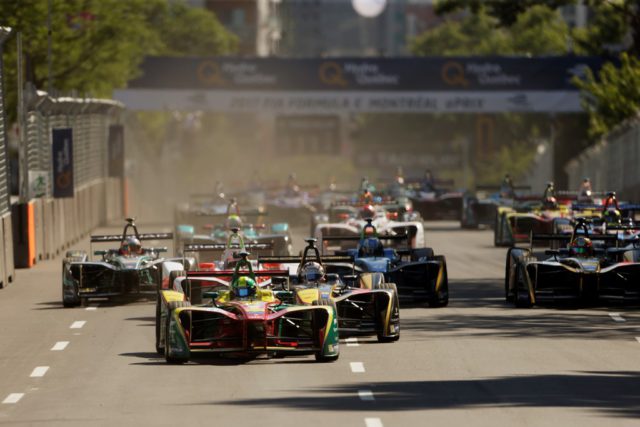 The FIA Formula E Championship will bring circuit racing back to Switzerland for the first time in over 60 years. The inaugural Zurich E-Prix will take place on June 10.
The FIA World Motor Sport Council updated the calendar at its meeting in Paris. Zurich joins the exciting list of new destinations on the 2017/18 schedule. Santiago, Sao Paulo and Rome are among the cities also hosting Formula E for the very first time.
There is no racing in Switzerland due to a state ban. The last event took place at the Bremgarten circuit in 1954. However, a law change in 2015 lifted restrictions on fully-electric racing. And it paved the way for Formula E to bring electrifying wheel-to-wheel action to the streets of Zurich.
Formula E will also return to Berlin as the German round is confirmed at Tempelhof Airport on May 19.
The dates for the New York City e-Prix have also moved one week later. Now it will take place over the course of two days on July 14 & 15.
FIA President Jean Todt, said:
"I am very pleased that circuit racing is returning to Switzerland next year. To be able to reintroduce this discipline to a country where it has been absent since it was banned in 1955 is an exciting prospect and the achievement of an important goal for the FIA. I would like to congratulate everyone involved in making it a reality, as it is important for us to continue to bring motor sport to new audiences around the world. Together with the other new events on the calendar in Santiago, Sao Paulo and Rome, I believe we have a very strong season of Formula E ahead of us."
Alejandro Agag, Founder & CEO of Formula E, said:
"The calendar for next season is shaping up to be one of the most exciting yet with four new venues – including Zurich. I'm thrilled that Formula E is bringing racing back to Switzerland for the first time in over 60 years. This wouldn't have been possible without the core fundamentals of Formula E – driving the electric revolution and sustainable mobility. Following the recent law changes this race was also made possible with the instrumental support of our Swiss partner, Julius Baer."
"I would like to express our gratitude to their CEO, Boris Collardi, and his entire team for their continued belief in Formula E. We've again been able to break new grounds in the world of motorsport. In addition to Zurich, I'm delighted to return to Berlin, a city which has featured on the calendar since the beginning and has seen many passionate racing fans attend our event every year. Germany is a key market for Formula E with the influx of manufacturers joining the series, including Audi this year. I just can't wait to get started!"
Sebastien Buemi, Renault e.dams driver and Formula E champion, said:
"Having a race in Switzerland is truly a dream come true. I am delighted about this news and still can't believe it. Only a few years ago it seemed impossible because of the local legislation. But thanks to Formula E we have managed to bring racing back to my country. Zurich is the biggest city and racing there will be incredible. I hear the track will look amazing and can't wait to give it a go. In the past years together with Renault I considered Paris to be the race of the year. But I can finally say that in addition to France I will have my home race to look forward to next year."
What an Amazing NEWS @FIAformulaE ! Can't wait to be racing in my home country! It is a Dream come true! #ZurichEPrix #Switzerland #homerace pic.twitter.com/Mmn9nVRBkq

— Sébastien Buemi (@Sebastien_buemi) September 21, 2017
Boris Collardi, Chief Executive Officer of Julius Baer, said:
"We are proud to have a race in our Swiss home market. We have supported Formula E from day one, even before the first race took place in 2014. It is a trailblazer for the future of mobility, for technologies that enable a more sustainable world. Zurich has the ideal community to embrace this vision, with its dynamic cosmopolitan life and deep respect for the environment. We are convinced that the Zurich E-Prix will be an unforgettable event and look forward to it."