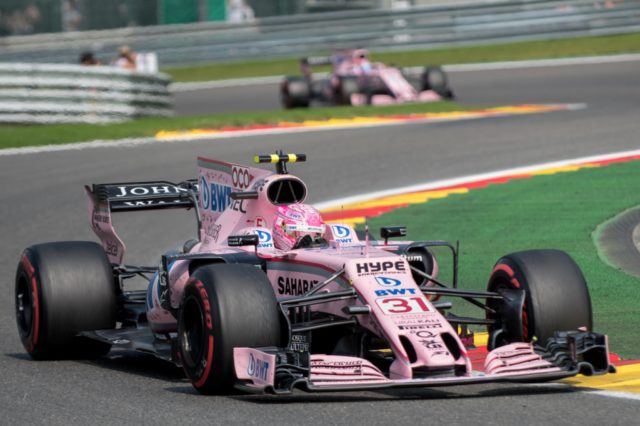 Force India will implement team orders from now on after the team's drivers Esteban Ocon and Sergio Perez collided at Spa – twice! The first contact had relatively no serious consequences but the second one almost put an end to both their races. At the chequered flag, Ocon was ninth, while Perez retired a couple of laps earlier.
Ocon categorically accused his teammate of both incidents.
"On lap one there was a very close moment with my teammate going into Eau Rouge. I can accept this because it was the start of the race and we were three wide, even though I got squeezed into the wall. The second contact with Sergio was too much. He squeezed me towards the wall again, made contact with my front wing, and risked both our races for no reason. It has cost the team points and it's difficult for me to understand why he was so aggressive. I will take the time to speak to him alone and share my point of view. It's a shame because we were in a strong position with a competitive car and we should have scored even more points from this race". Ocon explained.
Later – probably before talking to Perez – he published an aggressive tweet against the Mexican driver.
Damage limitation today, we were having a good race until Perez tried to kill me 2 times! Anyway he didn't manage to do so ending up P9?! pic.twitter.com/00kmub96B4

— Esteban Ocon (@OconEsteban) August 27, 2017
Force India Otmar Szafnauer: "We gave our drivers the chance to sort it out by themselves, but if they cannot do it, we will have to put some more rules in place and take the situation in our control"
Perez admitted that he was very disappointed how the race went, but he had his own explanation for the incidents. In the first case he did not select the start mode and was down on power going down the hill.
"Two clashes with Esteban, unfortunately, took away our chances and ruined the race for the team. I apologise for the incident at the start, which was totally my fault. I was battling with Nico [Hulkenberg] and I thought I had a good margin on all the others. Then I moved to the right without checking my mirrors and didn't see Esteban was there", Sergio said.
"In the second case, I think he was a bit too optimistic because there was just no room to make a move. I was covering my line and I expected him to attack after Eau Rouge – he had the whole straight to overtake me. I think we both misjudged the situation and we ruined the race for the team. After that, my car was too damaged to drive. It was a very particular situation and we have to review the incident. There's very little to say, it was not my best race today. We need to talk about what happened and then move forward as a team to avoid losing more points."
Part 1 #NeverGiveUp #Checo11 pic.twitter.com/KwIJ3pRj1u

— Sergio Pérez (@SChecoPerez) August 27, 2017
Part 2 #NeverGiveUp #Checo11 pic.twitter.com/k5NMb4TLxM

— Sergio Pérez (@SChecoPerez) August 27, 2017
Chief operating officer Otmar Szafnauer announced that team orders will now be issued right after the race. Team principal Vijay Mallya confirmed it later.
"It wasn't the result we wanted and we left behind a lot of points after a collision between our drivers", Szafnauer said
"This is what you get when you have two very competitive drivers who are fairly equal in performance in a decent car. It has happened to others in the past and it is happening to us now. However, we cannot afford to see this in the future, so we will ensure the team controls what happens on the track."
"We gave our drivers the chance to sort it out by themselves, but if they cannot do it, we will have to put some more rules in place and take the situation in our control. It's disappointing to lose so many points when we had the pace to finish well with both cars. Until the clash we had looked very competitive: the pace of the car is something we hold as a positive because we head to another speed track, Monza."