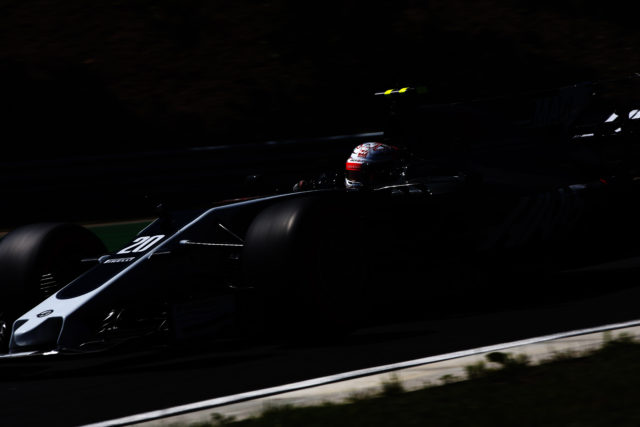 Haas team boss Guenther Steiner explains what the team expects from its "home race away from home" in Belgium.
Belgium is the home of Haas Automation's European headquarters. You've been to many appearances and interacted with many Haas Automation customers. How have they embraced the team and Gene Haas' endeavor into Formula One?
"The customers love it. They're truly a part of Haas F1 Team. The customers at these events have fun, and they're able to talk and interact with our drivers."
Considering Haas F1 Team had a difficult two races leading into the summer shutdown, do you look at the Belgium Grand Prix as a time for the organization to hit a reset button to accomplish your goals for the rest of the season?
"Sure. We tried to hit the reset button. But we don't know what we have until we get there and get our running in. We struggled a little bit in Hungary with it being a low-speed track. We are bringing some items for low downforce or low drag for Spa and Monza, and we are as confident as we can be that it works, but everybody else will be doing the same. It will be, as always, a tight pack in the midfield."
With the Belgium and Italian Grands Prix being back-to-back, does it help that both are high-speed, low-downforce tracks?
"It is nice to have two similar races one after the other. If you're good in Spa, you normally should be good in Monza as well, but it can go the other way, too. So, let's hope we are good in Spa."
When you face adversity like you did in Hungary where you had to overcome practice crashes on Friday while still searching for the car's optimum balance in final practice and qualifying, how taxing is that on the team?
"It's very difficult. What we have to do is go back to our normal protocols so we are prepared. I think we are always very well prepared, and we were in Hungary, but both drivers hit the wall and we lost a lot of practice time. And when you don't practice, you don't have enough time to learn about the tire and these days it's all about tire management. We run a high-downforce package at Hungary and without all the data from FP1 and FP2, we were at a disadvantage."
"At the same time, our preparation for Hungary allowed us to salvage as much time as possible from FP1 and FP2. We at least got some running in, and what we did accomplish was a testament to the team and their attention to detail. The weekend in Hungary certainly tested the team, but it showed how hard we work to overcome adversity while remaining positive. Belgium is a new race and a new opportunity. We're as prepared as were before Hungary and we hope that we can get two clean practices on Friday."
Despite the Hungarian Grand Prix being a difficult race weekend, did the experience make the team stronger and better able to tackle future adversity?
"Racing involves ups and downs and you try to keep the downs as little as possible. I don't think anybody wants that experience, but when you have those downs like we had in Hungary, we get back up again. We had the same thing happen to us last year and it happens to all of the teams. It's not always 'everything is fantastic,' but I think the team is aware of this and nobody drops their head in defeat. It's all about how you come back, not how you got down. We will try hard and we will come back again."
Can you provide an update on what Haas F1 Team will do in regard to its brake package at Spa?
"At Spa we will be running Brembos to start off with and then we will see, but the plan at the moment is to run Brembos."
With the halo cockpit protection system being mandated for use in 2018, how has it affected the development of the 2018 car?
"We gained a little bit of knowledge last year when it was supposed to come in for 2017, but it was never off the list so everybody was thinking about it and working on it. We'll work on how we get the weight down on other parts of the car because we are at the minimum weight, otherwise our car just gets too heavy. We also need to find the best solution aerodynamically to integrate the halo into the overall body. So, it's head scratching, but nothing unusual for good engineers but, for sure, there is some work that needs to be done."
Will Haas F1 Team bring any more updates for the remainder of the 2017 season, or have you already begun the pivot to 2018 car development?
"We are still working through the data we gained from our last wind tunnel test to see if we bring another package for Japan or when we go to the United States. It looks more like we may bring some more updates for the U.S. Grand Prix."
We're past the season's halfway mark, but knowing how tight the midfield is, does it almost feel like a new season when we show up at Spa after the summer shutdown because it is so tight among the midfield teams?
"Everything is possible here. In Austria, we had the fourth-fastest car. And in Hungary, Renault had the fourth-fastest car. It's such an up and down in the midfield. Right now, it seems teams like Renault and McLaren have made gains, but maybe it is track specific. Nobody really knows. Everyone is speculating and I don't want to make a speculation. We will do the best job we can in all of these circumstances and try to keep our heads in front of the people behind us and try to catch up to some in front. Everybody is trying to do the best they can and we will do the same. To speculate about what others are doing doesn't help you. We just need to work hard and try to make the best out of it."
As the racing season winds down toward its finish, silly season ramps up. How nice is it to have your driver lineup set for 2018?
"It's fantastic. Having our drivers signed up now is the best place to be. They are solid. They work well with the team. There is no uncertainty about who is there. They don't get nervous. They can focus on defending their position and bettering it."
Where in the ? are we heading this week? Check it out below!

What's your favorite part of the course? pic.twitter.com/fkY20TN5fQ

— Haas F1 Team (@HaasF1Team) August 21, 2017