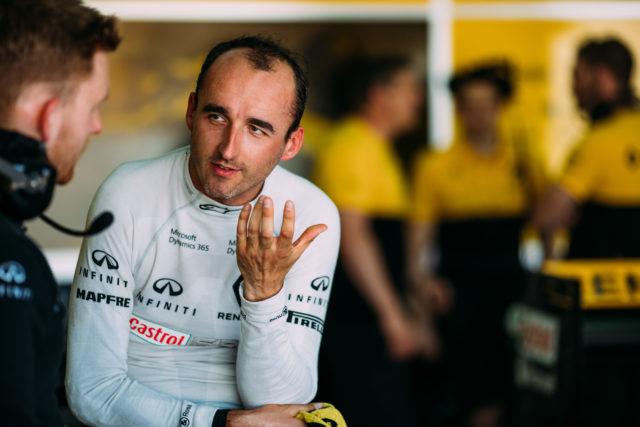 Following two days of testing with a V8-powered 2012 Formula 1 car, the E20, on June 7 in Valencia, Spain and again on July 12 at Le Castellet in France, Robert Kubica will drive the R.S.17, on August 2 at the test session taking place at Hungaroring. The Renault team officially confirmed the highly anticipated participation of the Polish driver in the training session.
This day is a new phase in assessing the capabilities of Robert Kubica
Cyril Abiteboul, Managing Director, Renault Sport Racing:
"The first two days of testing allowed both Robert and ourselves to gather a great amount of information. The upcoming session with the R.S.17 at the Hungaroring will allow us all to obtain detailed and precise data in a current car and representative conditions. After this test, we will carefully analyse the collected information to determine in what conditions it would be possible for Robert to return to competition in the upcoming years."
And our driver line-up for the post-#HungarianGP test?
Robert #Kubica and @NicholasLatifi pic.twitter.com/QSjwoYxSjx

— Renault Sport F1 (@RenaultSportF1) July 24, 2017
Abiteboul declined for some time to make any statements on the possibility of Kubica taking part in the test. At Silverstone, he explained that the first test was an opportunity to get Robert behind the wheel. The second was already an assessment of the driver's capabilities. The Renault Sport Managing director said that Kubica is still quick, very consistent and energetic.
"He still has this energy, this drive, this sort of enthusiasm that he has always had, he always carried to him and to the team", Abiteboul added.
And although he quickly commented that it is too early to discuss next steps, he admitted there are no obvious roadblocks for Robert Kubica to return to Grand prix racing.
We are so happy!!! Congrats, Robert!! #F1 https://t.co/4MyANfVNjZ

— Circuit BCN-CAT (@Circuitcat_eng) July 24, 2017