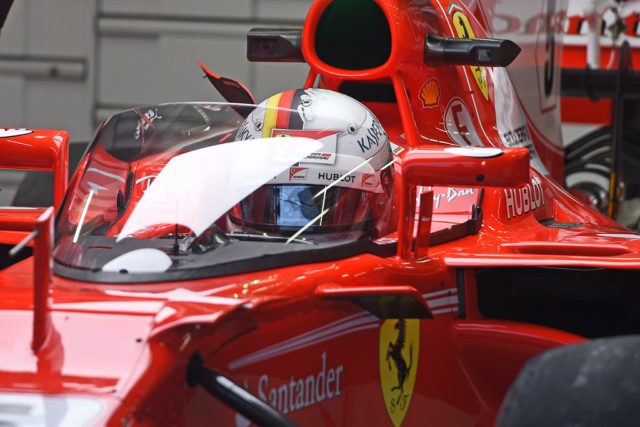 Sebastian Vettel did not like the new protection device, called "shield". He was the first driver who tested it. Vettel made only three laps and removed it from the car.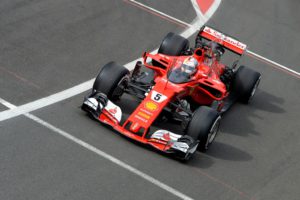 "I tried it this morning, I got a bit dizzy", Vettel explained. "Forward vision is not very good. I think it's because of the curvature, you get quite a bit of distortion. Plus, you get quite a bit of downwash down the straight pushing the helmet forward."
Ferrari had a run plan with "the shield", "but I didn't like it so we took it off."
The German driver also said the device makes getting out of the car quite difficult.
"Getting in doesn't matter. I think getting out it's more about getting used to it, it's not the main thing. It's probably more about getting used to it", Vettel added.
The next tests are planned for the Italian Grand prix.
"Today for us it was a bit mixed of ups and downs", Sebastian Vettel commented the rest of his work
"This morning we had difficulties with the balance to start with, but overall I think we improved the car at the end of the session. On Friday you don't seek much the performance and this new engine has a lot of miles to do, so we try to save it. It's working well and we didn't have problems. But we still have to do more and to improve. We have a lot of things to look at. Mercedes looks quick but it's not a surprise. The track today was too slippery and tricky, but I think we can get better tomorrow".
Kimi Raikkonen said it was a pretty decent day for him
"A bit more straightforward session than on other occasions, and we had no issues. Since this morning the feeling had been ok, but obviously, at the beginning, there was a bit of guesswork with the conditions, as always when you first run at a track. It could have been a bit better, but it was not too bad either. Tomorrow will be a different day, we can only try to do our best and I'm sure we can improve. In qualifying and mainly on Sunday we'll see if it is enough", the Finn commented.
? If you missed it earlier… here's VET testing that new "shield" #BritishGP ?? #F1 pic.twitter.com/nM8FWiQVrg

— Formula 1 (@F1) July 14, 2017