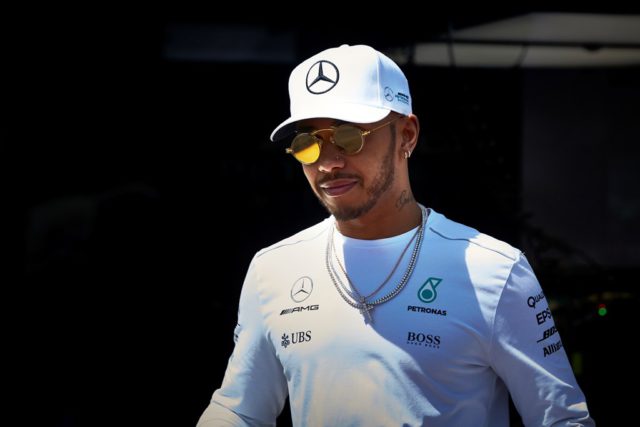 Lewis Hamilton was in the middle of a storm of questions concerning his absence from yesterday's F1 event in London. The Mercedes driver explained that he prepared as best as he could for the British Grand prix.
"It's good to be here. I tried to prepare in the best way I can, quite relaxed the past few days and I've come here excited for the weekend, as always", Hamilton said during the press conference at Silverstone.
"You've got the championship, which is obviously the most important thing, but a very close second, if not tied, is the British Grand Prix, being a home Grand prix, the home of motorsport, such an incredible, intense weekend. Every year it is a must-win for a British driver, so yeah I tried to prepare the best way I could."
"I don't why I was the only one (missing). Everyone had the right to make their decision for themselves. For me, I felt that it's been a pretty intense season so far and I felt for me, I needed to prepare the best way that I could for this weekend. The season's the most important thing for me. That's really it."
"I generally haven't been on my phone the last couple of days, I tried to switch off, I switch on a couple of times just to receive a message but otherwise I've tried to stay away from it. Personally, I feel I prepared the best way for this weekend and that's really all I can do. Of course, there are people who have other opinions about it but I'm trying to do the best… it's a very intense season, I'm trying to prepare the best way I can. Other people will have different ways of doing so."
"I love this Grand Prix, I love this race so I feel yesterday, personally, plays any role in how great this weekend is for me"
"Every season, for the last years, has been incredible, it's been growing every year. You get people who have saved up so much through the year to come up to this Grand Prix and I think you will have seen over the previous years how much I appreciate and respect that and tried to give and enjoy the weekend with the fans and that doesn't change."
"I told the organisers last week that I wouldn't be going. I spoke to Toto, informed the team which was very understanding and understood and respectful of the decision. Yeah, I think they used my image so that wasn't a problem."
Thursday @SilverstoneUK = EPIC!!! ?#BritishGP ?? @F1 pic.twitter.com/O8YNpBabux

— Mercedes-AMG F1 (@MercedesAMGF1) July 13, 2017
Hamilton was also asked how he reacted to the booing from fans when somebody mentioned his name during the event in London
There was also the question if flying to and back from Greece is really the best way for preparation.
"To be honest, I didn't really know about it. In terms of flying, I don't live here so I wouldn't have been here anyway as I was back in Monaco first, but I fly a lot longer than that for trips and I usually arrive pretty good. But you know, right now my focus is on this weekend, making sure I put every bit of energy into this great weekend that we have and I received incredible love from the fans every single year that I've come here. Yeah, looking forward to seeing them."
What a reception! ?@LewisHamilton, you legend ??#BritishGP @F1 @SilverstoneUK pic.twitter.com/6upJE1YKVI

— Mercedes-AMG F1 (@MercedesAMGF1) July 13, 2017