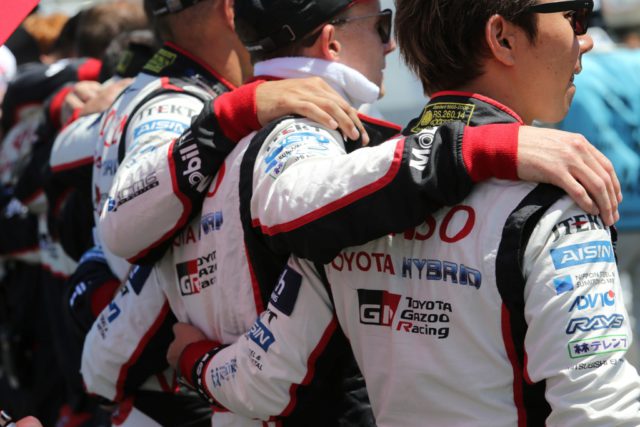 Even agony is probably not enough strong a word to describe what the Toyota team experienced during the 2017 24 Hours of Le Mans. The favourites for the race lost two of their three cars in the frame of 20 minutes during the night. The third TS050 HYBRID finished in ninth position.
You don't choose to win Le Mans, Le Mans chooses you. We hope one day it will choose us. We'll be back. pic.twitter.com/cf3C6Xxnab

— TOYOTA WEC Team (@Toyota_Hybrid) June 18, 2017
The pole position-winning #7 TS050 HYBRID of Mike Conway, Kamui Kobayashi and Stéphane Sarrazin led for the opening 10 hours
But it retired at 1.15am following a clutch problem. Later it transpired the issue was due to a mistaken identity. Kobayashi was waiting in the pitlane for the rest of the cars to pass under a safety car. He saw a guy waving at him and thought it was an instruction to go. Actually, that was LMP2 driver Vincent Capillaire, who just wanted to show encouragement to the lead car. Kobayashi started to leave only to be stopped by his team, which later led to the clutch problem.
"It is very disappointing because I thought it was going to be our day as we were quick and we felt we were controlling the race", Kobayashi said.
"Again we found out how hard it is to win Le Mans"
"Big thanks to the team who put so much effort into this race. It is not only about speed because we had that but in the end, we missed the win. We just have to come back and go for the win again next year."
An accident put the #9 of Nicolas Lapierre, Yuji Kunimoto and José María López out just minutes after the #7 stopped when it was hit from behind by an LMP2 car, causing a puncture and damaging the hydraulics. That left the car unable to shift gear and it retired on track just a few hundred metres from the pits at 1.35am.
"It was a very hard race for us with a lot of misfortunate. We had a few smaller issues earlier in the race which cost some time but we were running a strong second and back in the fight. In turn one I was hit by an LMP2 who hit the back of me due to the normal fuel cut. There was nothing we could do about it. It was the beginning of the track so it was impossible to get back to the pits. It was very, very disappointing", Lapierre explained.
The only Toyota that finished the race was #8 of Sébastien Buemi, Anthony Davidson and Kazuki Nakajima
It was also in contention for the victory for almost eight hours. An issue on the front motor cost it almost two hours in the pits. It rejoined and finished ninth, setting the fastest lap late in the race.
"It's so disappointing to drive so many laps in such a great car for no meaningful reward", Anthony Davidson admitted. "That's all I was thinking later in the race when I was setting fast laps and closing down the other cars. But the gap was too big after the problem. Once again Porsche did a great job. We won't give up; we've proved that by coming here with such a good car this year which gives me faith in the team that we will do it one day."
It feels wrong to call them highlights – here are some video clips from our #LeMans24 pic.twitter.com/DUiDtb2Pmr

— TOYOTA WEC Team (@Toyota_Hybrid) June 18, 2017