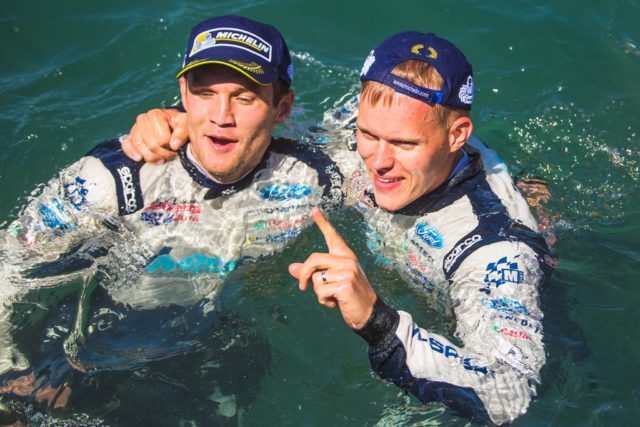 Ott Tänak and Martin Järveoja secured their maiden FIA World Rally Championship victory at last weekend's Rally Italia Sardegna. They delivered a superb drive behind the wheel of their Ecoboost-powered Ford Fiesta WRC and climbing to third place in the championship standings.
Their landmark victory also saw M-Sport extend their lead at the head of the manufacturers' standings. It also continues the team's unbroken record of podium finishes at every event so far this year.
"This is just the very beginning for Ott and Martin", Team Principal Malcolm Wilson said.
"There's nothing quite like that first win and they delivered the perfect strategy with a very impressive drive this weekend. They should be extremely proud of their performance, and I'm sure this victory will be the first of many."
"It's fantastic to see the way Ott has developed. He's always had the speed, but now he really does have the full package. I also need to praise Martin. This is his first year at the sport's highest level and he has taken to the challenge with such ease and professionalism."
Malcolm Wilson: "This is just the very beginning for Ott and Martin"
"As you can imagine, there was a lot of emotion from the team when Ott crossed the finish line. When you've worked with someone as long as a lot of our guys have worked with Ott – and been with him through all of the ups and downs – I can tell you that this one really does mean a lot."
"Sébastien Ogier had a tough weekend with his road position, but once again he has shown exactly what makes him a four-time World Champion. I'm sure that he will be keen to put this one behind him, but even on a tough event he's still collecting the points."
"That is what makes him so special and he and Julien Ingrassia have had such a positive influence on everyone in the team."
Moment, I will remember forever! #P1 #WRC pic.twitter.com/x0XzjW4yGu

— Ott Tänak (@OttTanak) June 12, 2017