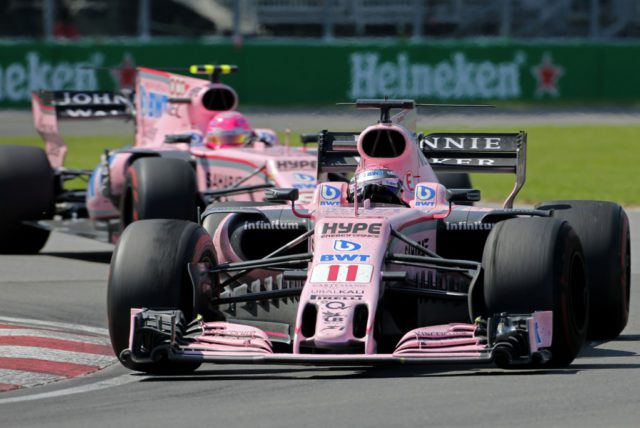 The Force India drivers Sergio Perez and Esteban Ocon finished fifth and six in the 2017 Formula 1 Canadian Grand prix. They caused quite a stir during the race because of the Mexican driver's refusal to let his teammate past.
The team did not order Perez to let Ocon through but might review its options.
"A fantastic performance and result by the team", deputy team principal Robert Fernley commented.
"The battle between Sergio and Esteban was one of the stories of the race. And it showed how closely matched they are as teammates. We clearly had the quicker car compared to the Red Bull of [Daniel] Ricciardo, but overtaking in Montreal is never easy and we spent almost the entire race in his wheel tracks. After the pit stops, Esteban was right behind Sergio and had a pace advantage thanks to his fresher tires. We advised both drivers of the situation and considered switching them around, but ultimately we chose to let them race."
"They were tough with each other on the track, but it was a fair fight. Sadly we couldn't contain [Sebastian] Vettel, but picking up 18 points extends our points advantage in the championship. We now have scored more than twice the points of the fifth-placed team. We also saw really competitive car pace this weekend and that's encouraging for the races to come, especially Baku."
Team principal Vijay Mallya chose Twitter to express his view.
"New guidelines will follow as we are happily in that coveted space", he wrote on the social network.
New guidelines will follow as we are happily in that coveted space

— Vijay Mallya (@TheVijayMallya) June 11, 2017
Sergio Perez insisted that there were no team orders from Force India, while his teammate let a bit of frustration get out
"I'm pleased to come away with fifth place. For nearly the whole race I was running close behind Riccardo in his DRS window and waiting for my opportunity to overtake. I could see he was struggling in certain areas. As we started to come through the lapped traffic, I thought I deserved the chance to try and overtake him. I tried my best and really pushed hard, but it just wasn't possible to make the move. It was the same situation with Esteban behind me for almost half the race, but it was only on the final lap that he got really close to me when we were lapping [Marcus] Ericsson", Perez explained.
"I knew Esteban had better tire life because my engineers made me aware of the situation and I replied by asking the team to simply let us race"
"I think the team was fair and respected my view. The team always comes first and we raced hard, but fair. I always give my best and I'm very happy we could come away with so many points from this race."
Ocon added: "As a team, we scored really important points today, but I am a bit frustrated by this result because I feel a podium may have been possible. This is the way racing goes and we have to look at the positives: we had a great car that allowed us to take the fight to Ferrari and Red Bull and that is quite impressive. I am confident it won't be the last time we will fight at this level and it was an awesome feeling – a really enjoyable race."