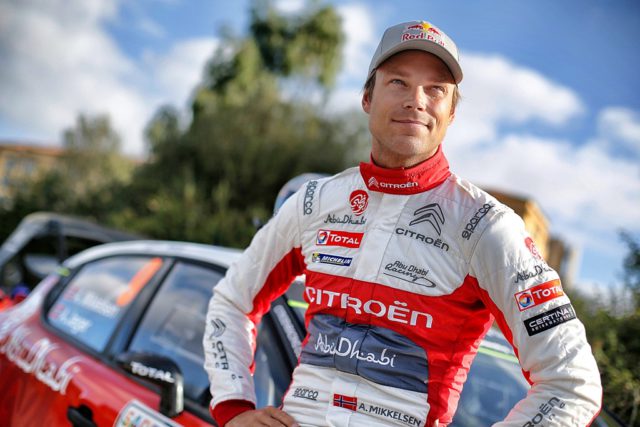 WRC returnee Andreas Mikkelsen has imposed no targets on himself for his championship comeback in Italy this weekend.
He returns to frontline action at Rally Italia Sardegna in a Citroen C3. It is his first competitive outing in a new-generation 2017 World Rally Car after losing a full-time drive at the end of last season.
After less than 300km in the car during a single day's test in southern France, Mikkelsen is making no predictions ahead of the hot weather, rough road encounter which is one of the toughest of the year.
"I've not been driving these cars for a long time so it's hard to know what to expect results wise. I just will drive with my feeling and we'll see where we are at the end. If I feel comfortable, then normally we are going at a good speed," he said.
The Norwegian has been without a full-time drive since Volkswagen Motorsport's decision to step back from the WRC last year. Although he finished third in the 2016 points and won the final round at Kennards Hire Rally Australia, he missed out on a top line seat for 2017.
Mikkelsen helped develop Volkswagen's redundant 2017 Polo and also tested Hyundai's i20 Coupe before agreeing to a one-off deal with Citroen Racing
"So far it's only this rally and hopefully we can do a good rally and maybe there will be more. Nobody from the team really expects me to deliver a great result here.
"I've had one day in the car which at this level isn't much. The level is really high now in the WRC and if you want to fight at the front, you really have to know your car. You must know what's going to happen in every situation to go really flat out," he added.
Mikkelsen feels he has nothing to demonstrate on his return after finishing third in the championship for the last three seasons.
"Being on the podium three years in a row, I don't feel I need to prove I have the speed. The last round of the WRC we did, we won. For me, it's to get the mileage in the car and bringing my experience to the team and hopefully improve everything.
"One-day testing is not a lot but the feeling was quite good. I got comfortable quite quickly, but I'm still discovering it," he added.
@AMikkelsenRally in Shakedown @Rally_d_Italia ? pic.twitter.com/VyiJp4G6Ml

— RallyRACC (@RallyRACC) June 8, 2017