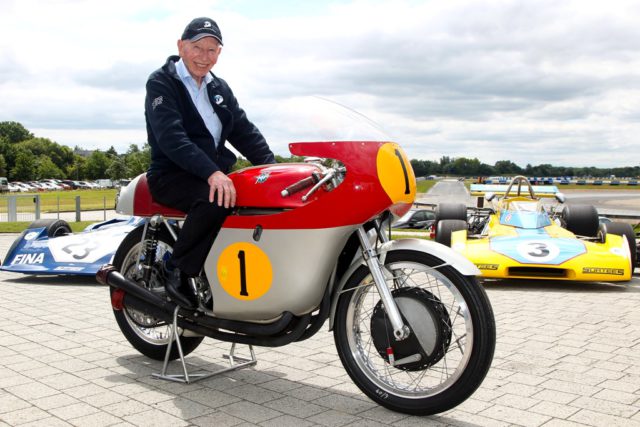 Late in 2016 John Surtees CBE started the unique challenge of designing a watch that would help a wonderful charity get the support it needed.
His family picked up the project after his unfortunate passing in March. It is now ready and the profits will help raising money for the Henry Surtees Foundation.
Omologato prides itself on offering people the opportunity to wear a piece of racing history through its motorsport-inspired timepieces. The Surtees is an emotional watch and definitely the work of a legend. It is a chronograph the family wanted to complete and one that pays the ultimate tribute to a racing legend.
John Surtees himself signed off this project. It's a massive honour for us to complete it with his family. pic.twitter.com/JmOfix7abI

— Omologato® (@OmologatoOro) May 26, 2017
The Surtees family finished the project for the very special chronograph, which took the name of John Surtees
The blue colour within the dial comes with a unique motorsport tale. Enzo Ferrari dropped the traditional Ferrari red in 1964 in favour of a blue and white colour scheme. Surtees, leading The Prancing Horse charge used the different livery for the final two Grands Prix of that season. At the final race, the Brit sealed the World Championship crown, becoming the first Ferrari driver to claim an F1 title in blue whilst also being the first – and to date only – champion on two and four wheels.
John Surtees founded the charity after the tragic death of his son Henry. He died aged just 18 years old whilst competing in a Formula 2 race at Brands Hatch in 2009. The Foundation supports pioneering new schemes and revolutionary projects.
Keep your eyes peeled on the First Floor tomorrow as we launch our new exhibition 'John Surtees – A Master On Two Wheels, A Legend On Four'. pic.twitter.com/oc5J65zISP

— Mercedes-Benz World (@MBWorldUK) May 26, 2017
John Surtees remains the only person with World Championships crowns on both two and four wheels. Born in Tatsfield on February 11 1934, Big John won the 350cc motorcycle category in 1958, 1959 and 1960. He triumphed in the 500cc in 1956, 1958, 1959 and 1960. He was first in Formula 1 in 1964 with Ferrari. Surtees raced in 111 F1 Grand Prix.
He became a member of the International Motorsports Hall of Fame in 1996. The FIM honoured him as a Grand prix legend in 2003. Already a Member of the Order of the British Empire (MBE), he received an Officer of the Order of the British Empire (OBE) in 2008. A Commander of the Order of the British Empire (CBE) followed in 2016 – for services to motorsport.