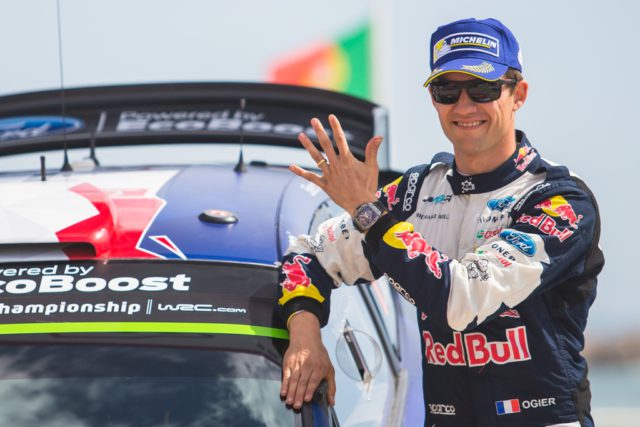 Sébastien Ogier and Julien Ingrassia may have secured their fifth Rally Portugal victory, but this one carries special significance as their first in the north and their first behind the wheel of the Ford Fiesta WRC.
The victory also carries historic weight as the Frenchmen equal Markku Alén's long-held record for the number of wins on Portuguese soil. Coincidentally, Alén secured his fifth victory on the 20th anniversary of this ever-popular event, Ogier securing his on the 50th.
Delivering a faultless drive, Ogier put in a sensational performance – limiting the time loss whilst opening the road and making a move with impressive pace through the cleaner conditions.
Securing five stage victories over the course of the weekend, the four-time World Champion took confidence from a good feeling with the Fiesta and secured victory with an advantage of 15.6 seconds.
With maximum points for the win and an additional point through the Power Stage, the Frenchman has also extended his lead at the head of the drivers' standings.
Sébastien Ogier: "I really must thank the team for all of their hard work. I've always said that rallying is a team effort and the car has been perfect all weekend"
"I'm delighted with this result. It's been a hard fight until the end but I think everyone always enjoys winning like that", Sébastien Ogier said. "Honestly, when we did the recce, I didn't think we would have a chance to challenge for the victory. That makes this result an even prouder and happier one."
"Opening the road is always a challenge. But we had a really good run through Friday's stages. That gave us a much better road position for the rest of the rally. On Saturday, I was back where I always prefer to be and posted the first or second fastest time though every stage."
"It was an intense fight with Ott (Tänak) through the first half of the rally. He had great pace all weekend and, even after his mistake, managed to score good points for the team."
"Everything feels good and I really must thank the team for all of their hard work. I've always said that rallying is a team effort and the car has been perfect all weekend. Everyone is putting in the maximum and they really deserve this victory."
"I'm happy that we could give back from our side with a strong performance. Actually, my number one mechanic and my engineer are Portuguese so I'm sure they are very proud to secure this one too!"
Time for some champagne!! ??
Thank you guys @MSportLtd ??@rallydeportugal pic.twitter.com/X2krwRzEVQ

— Sébastien Ogier (@SebOgier) May 21, 2017