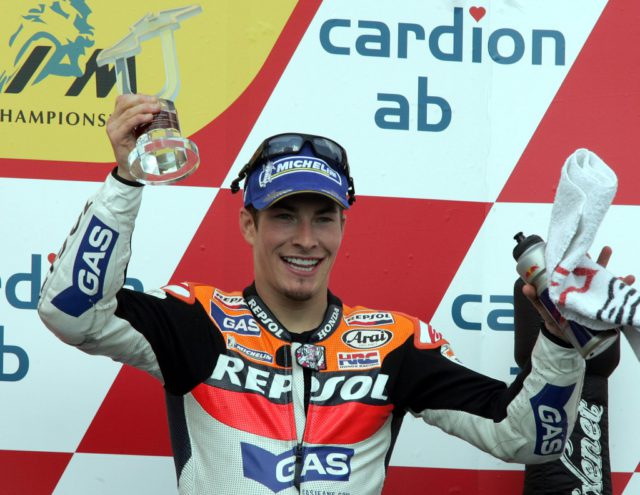 The Honda World Superbike Team announced that Nicky Hayden "succumbed to injuries suffered during an incident while riding his bicycle last Wednesday".
The team made the following statement:
"Nicky passed away at 19:09 CEST this evening at Maurizio Bufalini Hospital in Cesena, Italy. His fiancée Jackie, mother Rose and brother Tommy were at his side.
Throughout his career Nicky's professionalism and fighting spirit was greatly valued and carried him to numerous successes, including his childhood dream of being crowned MotoGP World Champion with Honda in 2006. As well as being a true champion on the track, Nicky was a fan favourite off it due to his kind nature, relaxed demeanour, and the huge smile he invariably carried everywhere.
"Nothing says more about Nicky's character than the overwhelming response expressed by fellow racers and his legions of fans over the past few days. Jackie and his family are truly grateful for the countless prayers and well wishes for Nicky.
"The 'Kentucky Kid' will be sorely missed by all that ever had the pleasure of meeting him or the privilege to see him race a motorcycle around a track, be it dirt or asphalt.
The racing world says goodbye to one of its dearest sons. Rest in peace Nicholas 'Nicky' Patrick Hayden."
Tommy Hayden made the following statement on behalf of the fanily:
"On behalf of the whole Hayden family and Nicky's fiancée Jackie I would like to thank everyone for their messages of support – it has been a great comfort to us all knowing that Nicky has touched so many people's lives in such a positive way.
"Although this is obviously a sad time, we would like everyone to remember Nicky at his happiest – riding a motorcycle. He dreamed as a kid of being a pro rider and not only achieved that but also managed to reach the pinnacle of his chosen sport in becoming World Champion. We are all so proud of that.
"Apart from these 'public' memories, we will also have many great and happy memories of Nicky at home in Kentucky, in the heart of the family. We will all miss him terribly.
"It is also important for us to thank all the hospital staff for their incredible support – they have been very kind. With the further support of the authorities in the coming days we hope to have Nicky home soon."
If a man is to be measured by the outpouring of love after he's gone, then @nickyhayden was truly a giant amongst men #RIPKentuckyKid pic.twitter.com/MaxyZjIS4r

— PaddockChatter (@PaddockChatter) 22 May 2017
Forever. pic.twitter.com/n0k1VG3r5t

— COTA (@COTA) 22 May 2017
Remembering the crowning achievement of Nicky Hayden's career.

Thanks for the wonderful memories, Nicky. ? pic.twitter.com/tORnqRG7nl

— Eurosport UK (@Eurosport_UK) 22 May 2017
"The nicest man in Grand Prix racing"

Thanks for the memories, Nicky. #RideOnKentuckyKid pic.twitter.com/BX4VvGgKWC

— MotoGP™ (@MotoGP) May 22, 2017
Nicky was a great sportsman, a true gentleman and a friend. We'll never forget him. Our hearts and thoughts are with his family and friends. pic.twitter.com/Tc49KNUeFP

— Repsol Honda Team (@HRC_MotoGP) May 22, 2017