Fans at Indianapolis Motor Speedway were treated to a thrilling dress rehearsal for the 101st Running of the Indianapolis 500 presented by PennGrade Motor Oil with Monday's practice on the 2.5-mile oval.
A total of 2,705 laps were completed by the 33 entries in the session that featured large groups of cars running together in full race trim, dicing and passing all around the circuit
It was the busiest practice day this year, even though the track was open for only 3.5 hours compared to the six hours available on practice days last week.
Chip Ganassi Racing's Max Chilton finished on top of the speed chart with a lap of 228.592 mph in the No. 8 Gallagher Honda
Chilton said he spent most of the day in the car "apart from visiting the little boy's room for 10 minutes." He logged 108 laps to further his Indianapolis Motor Speedway education.
"The more laps you do around here, the more you learn," said Chilton, who finished 15th as an Indy 500 rookie in 2016 and will start in that spot in this year's race. "I don't think anyone out there is overly happy with their car in race traffic. You keep trying to learn, trying to get it better.
"In clear air, I seem to be pretty competitive. In dirty air, I started to learn how to time the moves. … This is going to be my second 500. I'm still learning but it's always nice to finish the day at the top of the time sheet."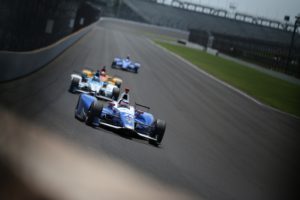 Verizon IndyCar Series rookie Ed Jones was second on the time sheet in the incident-free session, his best lap at 228.118 mph in the No. 19 Boy Scouts of America Honda for Dale Coyne Racing
P2 today, great race car underneath me in traffic and lots of pace too. Thanks once again @DaleCoyneRacing #Indy500 pic.twitter.com/iMKbSNuqHO

— Ed Jones (@Edjonesracing) May 23, 2017
Chip Ganassi Racing's Scott Dixon, the 2008 Indianapolis 500 winner who captured his third Indy 500 pole position in qualifying on Sunday, was third in Monday's practice with a lap of 227.165 mph in the No. 9 Camping World Honda.
Reigning Verizon IndyCar Series champion Simon Pagenaud was optimistic after turning the fastest lap of the Chevrolet drivers and fourth best overall at 226.998 mph in the No. 1 Menards Team Penske Chevrolet. Pagenaud must come from the 23rd starting position in Sunday's 200-lap race.
"We made a lot of changes, mostly on obviously bodywork, because it's a different package than qualifying and also a new engine to go for the race," Pagenaud said. "It's a weapon, that engine, to put in there. They put in a new engine that's really strong.
"I felt like my race car was very good last week and we showed it today, I think, in the heat. It actually gets really good in traffic. It can run with people."
Three-time Indy 500 winner Helio Castroneves was sixth (226.705 mph), 2014 race winner Ryan Hunter-Reay seventh (226.542), 2016 winner Alexander Rossi ninth (226.376), 2013 winner Tony Kanaan 14th (225.955), two-time winner Juan Pablo Montoya 24th (224.651) and 1996 winner Buddy Lazier 33rd (218.998).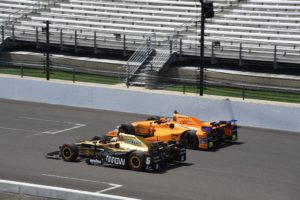 Fernando Alonso, the two-time Formula One champion making his Indianapolis 500 debut this year, ran the second-most laps on the day (122)
He finished 12th on the speed chart at 226.147 mph in the No. 29 McLaren-Honda-Andretti Honda.
On their way to NYC for the #Indy500 media tour, @ConorDaly22, @AlexanderRossi, and @alo_oficial enjoy some time to relax on the plane. pic.twitter.com/lP5Mki6L6x

— IndyCar Series (@IndyCar) May 23, 2017
James Davison turned his first laps of the month today in the No. 18 GEICO Honda after being named Sunday to replace injured Sebastien Bourdais for Dale Coyne Racing. Bourdais sustained pelvis and hip fractures in a crash during a qualifying attempt on Saturday.
Davison, who has two previous Indy 500 starts, ran 88 laps with a best speed of 223.670 mph.
"We're running a road course backup car (transformed to superspeedway configuration)," said Davison, the 30-year-old Australian. "We knew we weren't going to be particularly quick. But we just needed to try to get the car to handle well with a lot of cars in front of us obviously. We're starting 33rd.
"We tried a number of things as the day went on. I would say it wasn't the right direction, but we're smarter from it now. We'll just try and go another step forward with the car on Carb Day."
So great to see my crew! @DaleCoyneRacing pic.twitter.com/DZC5Ko1Ew1

— Sébastien Bourdais (@BourdaisOnTrack) May 22, 2017