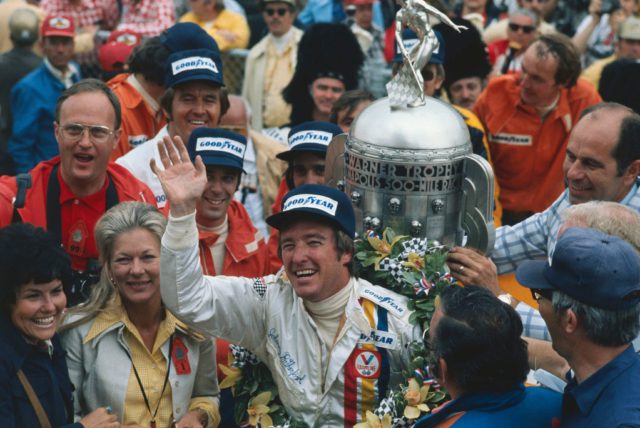 Indy 500 legend Johnny Rutherford joins McLaren-Honda-Andretti's IndyCar programme as its official ambassador for the month of May.
The 79-year-old Texan, or 'Lone Star JR' – his affectionate nickname, won the Indianapolis 500 on no fewer than three occasions. He was first twice for McLaren, and was champion of the Indy Car World Series in 1980.
However, it is his victories at Indy for which he is most widely remembered. His first win came in 1974, driving a Papaya Orange-liveried McLaren M16D. He repeated the feat in '76, driving a similarly coloured M16E. His third 500 victory came in 1980, driving the distinctive bright-yellow Chaparral 2K ground-effect car, which was designed by the British engineer John Barnard. Barnard later became McLaren's pioneering technical director in the early 1980s.
For this year's Indy 500, Rutherford will once again don a McLaren team shirt for the month of May. He will work as the McLaren-Honda-Andretti team's official ambassador and guest of honour.
He will be fully engaged in the team's Indianapolis programme from a marketing and media perspective, offering his personal insight and experience as the operation embarks on its ambitious plan to run Fernando Alonso in one of the greatest and most illustrious motor races in the world.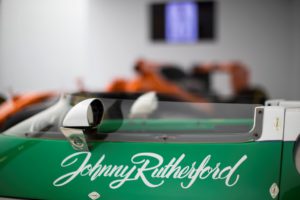 Johnny Rutherford: "The McLaren name still means a lot to me – it has a very special place in my heart"
"The McLaren name still means a lot to me – it has a very special place in my heart, in fact, for obvious reasons. So when I heard that not only was McLaren heading back to Indianapolis – after a near 40-year absence, and with Fernando Alonso behind the wheel, and that they would also be reviving the same, famous orange livery that was made famous by Bruce McLaren himself in the 1960s and '70s – well, I was blown away. That's just neat, real neat…", Johnny Rutherford said.
"I'm thrilled and excited about 'coming home' to McLaren for the famous month of May, and I want to do everything I can to help make the team's return to Indy as enjoyable and successful as possible. Make no mistake, this is a fantastic story for IndyCar, for Formula 1 and for motor racing in general, so to be able to help play a small part in it is just fantastic.
"And the fact that McLaren is doing it in partnership with Andretti Autosport is the icing on the cake: the name 'Andretti' means a lot to all racing people, and certainly to me. Not only has the team boss, Michael, achieved so much over his long career, but of course I raced his father, the great Mario, wheel to wheel for many years. I have great respect for both of them. I think everyone does."
19 days until race day… Who's ready? #Indy500 #MonacoGP #RaceOfTwoWorlds pic.twitter.com/ntyhlFcDZ4

— McLarenHondaAndretti (@McLarenIndy) 9 May 2017
McLaren Technology Group Executive Director Zak Brown added:
"You can count the number of people who've won more Indy 500s than Johnny Rutherford on the fingers of one hand – and that tells you everything about the scale of Lone Star JR's achievements in this legendary motor race.
"Johnny is a real Southern gent, and somebody who knows the nature of this particular race and the Speedway like few others in the sport. To have him onboard and alongside us as we take on this ambitious project makes me feel both humbled and excited – he'll be a fantastic asset to us all as we return the McLaren name to Indy."
Michael Andretti, Chief Executive Officer, Andretti Autosport, said:
"I had the honour of racing with Johnny early in my career and always regarded him as one of the legends of our sport. We share similarities as we both drove with McLaren. I even got the opportunity to witness his acting abilities when we appeared together on an episode of Home Improvement. And I can say he's a better racer than actor!
"I am looking forward to working alongside Johnny as he joins us as ambassador to the McLaren-Honda-Andretti effort."
Fernando's first day behind the wheel of his #McLarenHondaAndretti. Hype + fever all rolled into one. Excited, much? ? ? pic.twitter.com/eBHuaA9bgS

— McLaren (@McLarenF1) 3 May 2017