Spanning 357.59km across 18 stages, Rally Argentina sees crews compete on gravel for the first time since Rally México in March, for the first in a run of five gravel events.
Villa Carlos Paz will once again serve as the service park, situated 700km northwest of Buenos Aires and 30 minutes from the city of Cordoba.
The action kicks off with Thursday's Super Special Stage in the streets of downtown Cordoba, before the crews head south on Friday for two loops of the speedy and sandy tracks of the Santa Rosa de Calamuchita valley. Both of these loops will end with another Super Special Stage, this time taking place in a theme park just outside Villa Carlos Paz.
Saturday serves as the event's longest leg, as the Rally moves to the northwest Punita Valley for two identical loops of three stages, seeing teams clock up a distance of 160km.
Sunday's final leg takes place in the rocky roads of the Traslasierra mountains and features classic stages such as the El Condór and Giulio Cesare tests.
A fixture on the WRC calendar since 1980, the rally has featured regularly ever since. The itinerary remains largely unchanged from last year's edition, although there have been some notable alterations.
After four mixed terrain events, Argentina kick starts a series of five consecutive rallies on gravel, which will give all crews the opportunity to build up confidence on the loose surface.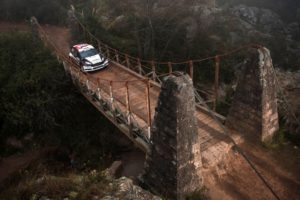 Rally Argentina means
Originally known as Rally Codasur, Rally Argentina has been a world championship regular since 1980, with the Córdoba region its home since 1984.
The event is famed for its mix of gravel stages, including fast and sandy roads in the Santa Rosa de Calamuchita valley and narrow rocky tracks at high altitude in the Traslasierra mountains. The higher stages are renowned for their moonlike landscape with the most famous, El Condor, providing an opportunity to spot the bird it is named after.
Deep ruts often form on the soft gravel roads to make the second pass of a stage trickier, and the cars' ride heights are raised in an attempt to overcome the problem. The valley stages are known for large and spectacular watersplashes where the competitive route crosses rivers.
This year's rally is once again based in Villa Carlos Paz north-west of Buenos Aires and close to Córdoba. The Thursday night street stage in the city, which kicks off the action, features a new layout with a mix of gravel and asphalt roads and has been lengthened.
South Americans are passionate about their rallying and more than a million spectators usually turn out for Rally Argentina each year. Sébastien Loeb scored eight wins from as many starts on the event, while Hayden Paddon claimed his breakthrough WRC victory last year.


Recent winners
| | | |
| --- | --- | --- |
| 2016 | Hayden Paddon/John Kennard | Hyundai New Generation i20 WRC |
| 2015 | Kris Meeke/Paul Nagle | Citroën DS3 WRC |
| 2014 | Jari-Matti Latvala/Miikka Anttila | Volkswagen Polo R WRC |
| 2013 | Sébastien Loeb/Daniel Elena | Citroën DS3 WRC |
| 2012 | Sébastien Loeb/Daniel Elena | Citroën DS3 WRC |
Rally Argentina Schedule (GMT-3)
Thursday 27 April
8.00am Shakedown (Villa Carlos Paz – Cabalango)
4.00pm: Start (Villa Carlos Paz)
5.10pm: Regroup (Córdoba)
7.08pm: SS1 – Ciudad de Córdoba (1.75km)
8.18pm: Parc ferme (Villa Carlos Paz)
Friday 28 April
7.00am: Service A (Villa Carlos Paz – 15 min)
8.38am: SS2 – San Agustin – Villa General Belgrano 1 (19.95km)
9.41am: SS3 – Amboy / Santa Monica 1 (20.44km)
10.24am: SS4 – Santa Rosa / San Agustin 1 (23.85km)
12.29pm: SS5 – Super Especial Fernet Branca 1 (6.04km)
1.09pm: Service B (Villa Carlos Paz – 30 min)
3.02pm: SS6 – San Agustin – Villa General Belgrano 2 (19.95km)
4.05pm: SS7 – Amboy / Santa Monica 2 (20.44km)
4.48pm: SS8 – Santa Rosa / San Agustin 2 (23.85km)
7.08pm: SS9 – Super Especial Fernet Branca 2 (6.04km)
7.43pm: Flexi Service C (Villa Carlos Paz – 45 min)
Saturday 29 April
7.20am: Service D (Villa Carlos Paz – 15 min)
8.08am: SS10 – Tanti – Villa Bustos 1 (20.80km)
9.21am: SS11 – Los Gigantes – Cantera El Condor 1 (38.68km)
10.14am: SS12 – Boca del Arroyo – Bajo del Pungo 1 (20.52km)
12.04pm: Service E (Villa Carlos Paz – 30 min)
1.08pm: SS13 – Tanti – Villa Bustos 2 (20.80km)
2.21pm: SS14 – Los Gigantes – Cantera El Condor 2 (38.68km)
3.14pm: SS15 – Boca del Arroyo – Bajo del Pungo 2 (20.52km)
5.04pm: Flexi Service F (Villa Carlos Paz – 45 min)
Sunday 30 April
7.15am: Service G (Villa Carlos Paz – 15 min)
9.13am: SS16 – El Condor – Copina (16.32km)
10.56am: SS17 – Mina Clavero – Giulio Cesare (22.64km)
12.18pm: SS18 – Power Stage El Condor (16.32km)
1.41pm: Service H (Villa Carlos Paz – 10 min)
2.01pm: Finish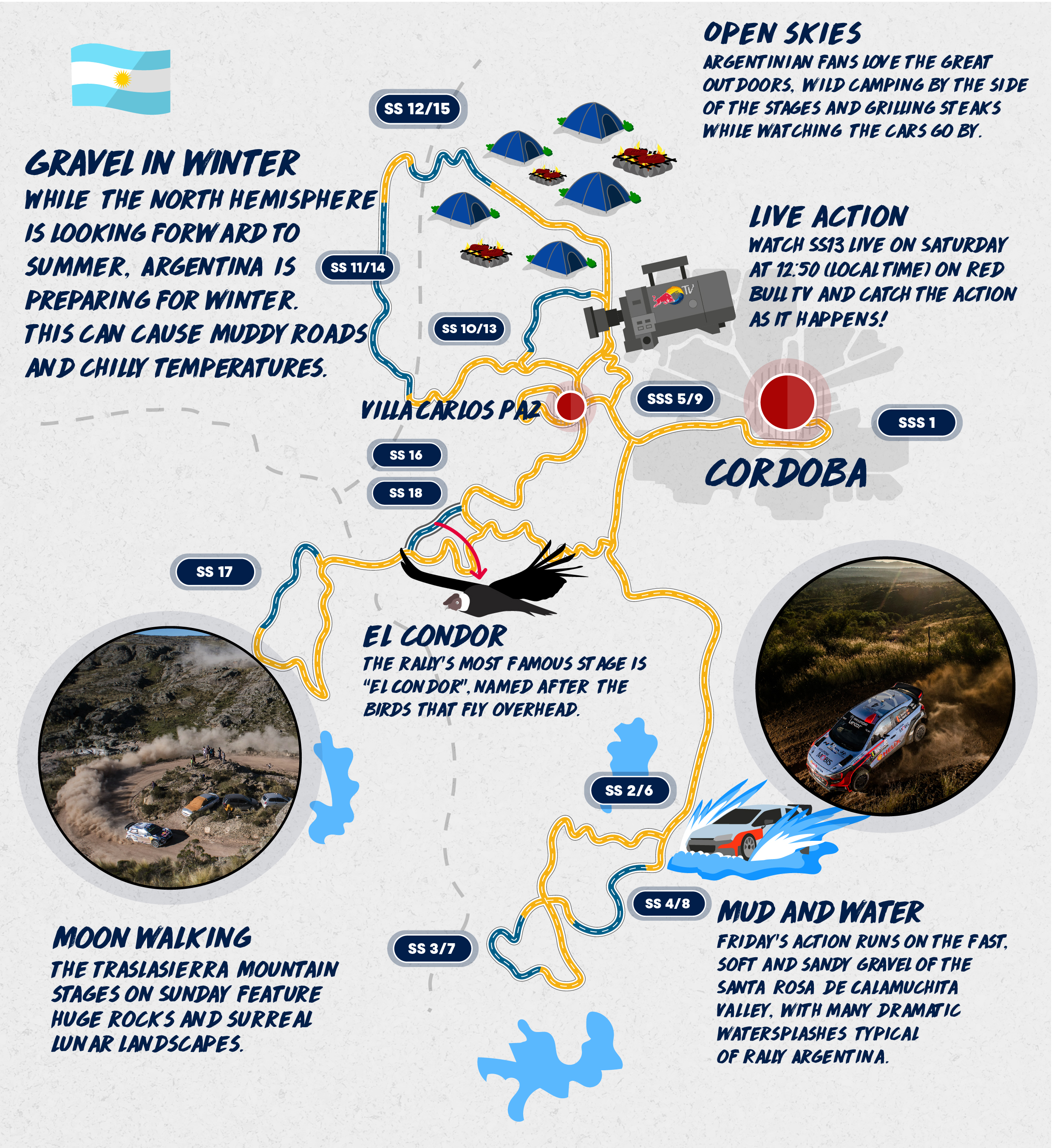 ?Quién ganará el #RallyArgentina2017? Votá! / Who will win YPF Rally Argentina? Vote!
?

— Rally Argentina (@rallyargentina) 25 April 2017