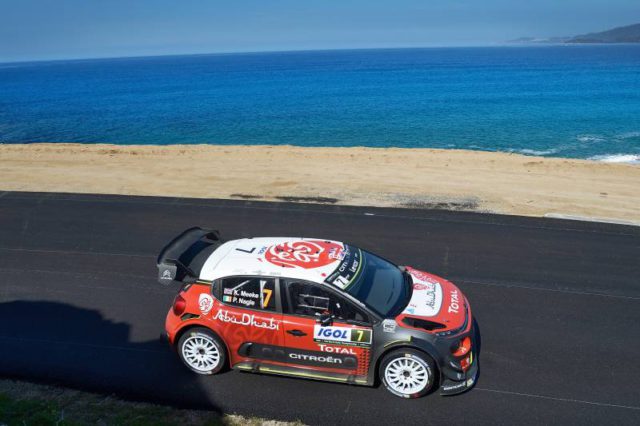 It was a heartbreaking morning for Kris Meeke at Tour de Corse as he retired from the race while leading it.
The Citroen driver was first in the standings after the first day of the rally. He was trying to go further ahead when suddenly lost 15 seconds in SS6. There was also report for smoke from his car.
A bit later the team announced Kris Meeke is retiring due to an engine issue
#WRC #tourdecorse @krismeeke and @paulnagle1 have to retire from today. Engine issue reported…

— Citroën Racing (@CitroenRacing) 8 April 2017
Checking @Craig_Breen's helmet which caused an intercom issue in SS6 #WRC #tourdecorse pic.twitter.com/ACeUyFBKyo

— Citroën Racing (@CitroenRacing) 8 April 2017
Citroen had even more problems. Stephane Lefevbre did not start SS6 at all (maximum lateness exceeded after a crash in SS5). Craig Breen had intercom issues and the team had to check his helmet to see what caused them. He somehow managed to finish the stage, losing only 8 seconds compared to Dani Sordo.
Thierry Neuville was much faster today than yesterday and passed Sebastien Ogier for second place. After Meeke's technical problems he will inherit the lead. Ogier meanwhile was still not comfortable in his Ford Fiesta.
"Some sections were dirty and also bumpy, I wasn't comfortable with the car and couldn't push. The car is touching too much the road for me"

— Sébastien Ogier (@SebOgier) 8 April 2017