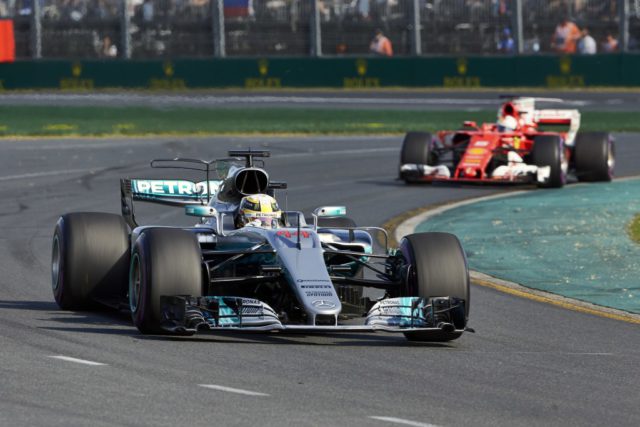 Lewis Hamilton came home in P2 at the Melbourne Grand Prix Circuit to claim his 105th Formula One podium finish. The other Mercedes driver Valtteri Bottas completed a double podium for the Silver Arrows in P3 on his debut for the team, taking his career tally of top three finishes into double figures. Lewis (18) sits P2 in the Drivers' Championship, seven points shy of Sebastian Vettel (25), with Valtteri (15) a further three points behind in P3.
Hamilton said: "A big congratulations to Sebastian and Ferrari. I know this win has been a long time coming for them. This shows we've got a real race on our hands this season and it's a challenge we will relish. It's going to be great for the fans. We had a really good start which is fantastic. It was nice to get a good getaway. But I was struggling with grip from the get-go.
Sebastian was able to always answer me in terms of lap time and just go quicker. Towards the end of the first stint I caught some traffic and that overheated the tyres. I struggled for grip to the point where I needed to come in. Plus the gap was closing up and I was sliding around a lot. We made the call to pit, because otherwise I think Sebastian would have come past me anyway. After my stop I got caught in some traffic which was unfortunate but that's motor racing."
Bottas commented: There are always things that could have gone better on the day but it's a good starting point for my journey driving for Mercedes. As a team I think we did a really good job with the car we had. But Ferrari were quicker today, there's no doubt about that. They've obviously done a great job over the winter. From my side the main issue was the first stint. I felt like I was always sliding around on the UltraSoft tyre – missing front and rear grip – especially after 10 laps.
That wasn't easy. But once we stuck on the Softs I had a great feeling with the car. It was behaving really nicely and it felt really nice to drive. It's a shame it was just a bit too late. But overall this race wasn't a disaster. It's good to start with a podium with a new team and every position is important for the Championship. There's a long season ahead. I have my points and I'll do better next time. I'm looking forward to China."
Toto Wolff, Head of Mercedes-Benz Motorsport, added: Some races you win, some races you lose, and when the days come where another team has done a better job. You need to accept that with humility and recognise their performance. Today, Sebastian and Ferrari were well-deserved winners. From the early stages of the race, it was clear that Sebastian was very quick because Lewis wasn't able to pull away. Sebastian came into the window where the undercut was possible and we had the feeling at that point that the tyres were not lasting.
It was the team's impression on the pit wall looking at the data and Lewis' in the car, too. So that was when, with all the clear risks of coming out in traffic, we took the decision to come in. We were between a rock and a hard place, really, and we went for it. But Ferrari played it very well – and they had the quicker car today. After that, we seemed to pick up in performance on the Soft tyres. Lewis managed everything perfectly and I must compliment Valtteri, too. He showed really good pace, made no mistakes through the whole weekend and got his first podium with the team in his first race. Now, the job for us is to learn the lessons from this race, understand why we didn't perform to our maximum today and keep working hard to improve the car in every area.