F1 Test Day 3 – McLaren, Ferrari and Williams' reaction
McLaren
Fernando Alonso (10th time, +2.893sec to 1st, 72 laps)
"The most important thing we can take from today is that we were able to do many more laps than both Stoffel and I could complete on our first days in the car. I'm happy that we were able to push through our plan for the day, gather a lot of new information, and learn a lot about the car, which is very positive after the issues we faced earlier in the week.
"The car feels good, and we've already made a lot of tweaks to the handling and set-up of the car from the first day. So far, the car is responding well to our changes, and overall we are seeing small improvements here and there, day-by-day, in different areas.
"The team worked really hard today to make sure we completed a lot of work on our programme, and we covered a lot of ground, testing different elements and working on various set-up configurations. It's definitely been a valuable day for us."
"OK Fernando, drive straight out. Track is clear." #F1Testing pic.twitter.com/t78TsWfCDl

— McLaren (@McLarenF1) 1 March 2017
Eric Boullier
"Today has been a much more successful day, and we're happy that we've been able to execute our testing programme proper with a full day of running. I'm pleased to report that there were no major issues, and the team completed our planned run programme for the day.
"We're confident that the issues we've experienced so far are glitches and part of the usual challenges faced in testing. The problems on Monday and Tuesday meant we lost valuable track time, which means glitches that occur in day one can then spread into day three, simply because of the lack of mileage.
"The more we run, the more we learn, and, naturally, the more there is potential for issues to be discovered that we need to fix. However, there is a minimum mileage figure that we can do that allows us enough data to understand the car and how to set it up, and from there we can move forward.
"While we shouldn't get carried away, today's running has provided the team with a boost after a tricky couple of days, and I hope we continue collecting more mileage and data tomorrow to end the first week."
Yusuke Hasegawa
"The past two days have been difficult for us due to the power unit issues we encountered. However, today we were able to make some progress and complete our programme, in which we tested the durability and deployment of the PU in accordance with our schedule.
"We have already found a solution to the oil tank issue we had on the first day with Fernando, and we will shortly receive clarification from Honda R&D in Sakura on the root cause of the power failure experienced in Stoffel's car yesterday. We proved certain durability in today's session and we hope to make further advances together with McLaren tomorrow."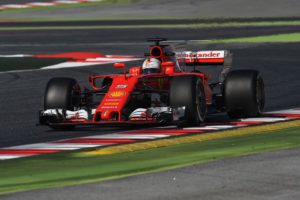 Ferrari
Sebastian Vettel (2nd time, +0.247sec to 1st, 139 laps)
"A lot, but never enough. That's what testing is for, to give you an idea. And the idea is that these cars, as a result of the new regulations, are very different to last year, in the way they look and in the way of driving them. We are more or less at the performance levels of ten years ago, with a lot of aerodynamic downforce, but also with quite a lot more weight. They are also more physical and at the end of the day, you feel tired, but this is normal for the first outing since the winter break. The tyres are also different and they behave more consistently. We have seen more or less what we expected: the cars are quicker in the corners and slower down the straights, because of the drag. But they are also great fun to drive."
Conclusions? "It's too early to understand the available potential: we focused on our programme, without paying the slightest attention to what the other teams were doing. All winter we have prepared so as to get here in the best possible shape. But there are still around four weeks to go to the first race and there is much work to do, so much in our programme. The stop towards the end doesn't bother me: we were trying something that didn't work, that's all."
Long run with Soft tires for #Seb5. 139 laps covered during the 3rd day of #F1Testing pic.twitter.com/XNa3IKfHrs

— Scuderia Ferrari (@ScuderiaFerrari) 1 March 2017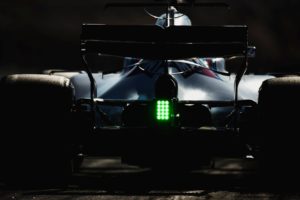 Williams
Lance Stroll (9th time, +2.646sec to 1st, 98 laps)
It was a good day. We covered nearly a 100 laps and I was getting used to the car producing good short and long runs. Unfortunately, we had the incident at the end which prematurely stopped our running. It was still a good day – the team is happy and I am happy with the way it went with the car, and everybody is still positive. It was unfortunate what happened at the end but things like that happen and you have just got to move forward and make the best of it.
Rob Smedley, Head of Performance Engineering:
We've had a good day, learning about the car while also doing aerodynamic and mechanical testing. We're still in the early stages, but things are looking promising and it's been a good boost for the team to get some significant mileage under the belt. Unfortunately, Lance was an innocent victim today when he was caught out by cold tyres at the end of the session. The incident caused some damage and as a result we missed the final hour of running.
The tyres being a little bit snappy has been something that both Felipe and Lance have commented on so I guess we're all just acclimatising to them. We will thoroughly investigate how we as a team can help the drivers in this situation. Lance, however, has acclimatised well during his first day. It's his first full day of F1 testing with the FW40 and we are comfortable with the progress he is making.
We won't be running again today. The #FW40 is back in the garage and we are assessing damage after the car went off track. #F1Testing #F1

— WILLIAMS RACING (@WilliamsRacing) 1 March 2017