The third Paris ePrix confirmed the popular success of Formula E with numerous well-known figures and supporters turning up to cheer on Renault e.dams and their drivers. The Renault Z.E. range was highlighted in the eVillage and on the track in the parade of electric vehicles in front of the Parisian public.
Sebastien Buemi was in eighth place on the grid after failing to qualify for the SuperPole shootout by only 14/1000th of a second. Nicolas Prost was in 13th place.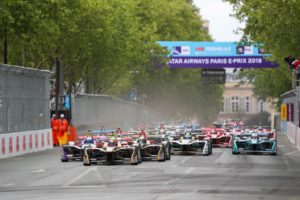 The race got off to a pretty chaotic start
Buemi made a great getaway and gained two places while Prost was tagged by Tom Blomqvist first time round, who took off over the rear of the Frenchman's car tearing off its rear wing in the process.
Despite this handicap, he held on to 13th place which he was unable to defend because of the lack of downforce and he was overtaken by the drivers behind him. Even though no part of the car looked in danger of coming off, Race Control ordered Prost to pit and have a new rear wing fitted.
When the pit stop window opened the various strategies became clear. The two Renault e.dams drivers carried out late pit stops with a few seconds between each one.
Buemi held on to his sixth place behind Jean-Eric Vergne, Sam Bird, Andre Lotterer, Lucas di Grassi and Maro Engel. Due to his extra pit stop, Prost rejoined a lap down in 18th place.
With around a dozen laps to go to the finish, the tension moved up a few notches with Lotterer and Di Grassi both getting past Bird. Buemi was locked in a wheel-to-wheel battle with Engel and Daniel Abt for fifth place.
With five laps to go the Renault e.dams driver was unable to fend off Abt, but the outcome was decided last time round. Buemi managed to repass the German driver and then took advantage of the collision between Bird and Lotterer to see the chequered flag in fifth place. Prost finished 16th after his race had been ruined at the start.
Already just three rounds and four races left in @FIAFormulaE season 4! Check out last weekend's #ParisePrix highlights! pic.twitter.com/ZIdZTlKdiL

— RENAULT e.dams (@RENAULTedams) May 2, 2018
The Renault e.dams came away from the eighth round of the season still in sixth spot in the teams' championship with 77 points
In the drivers' rating, Buemi held on to his fourth place with 70 points.
"I made a pretty good start and I was battling with [Nick] Heidfeld and Abt in the first corners. It was all going well until Blomqvist hit me. It's rather disappointing, but there was nothing I could do about it. Yet another difficult day to add to the previous ones! You just have to keep your chin up and hope for better results in the future", Prost said.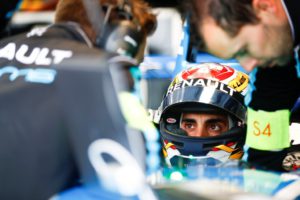 Buemi added: "The race got off to a great start as I gained two places on the first lap. After that my pace was good and our out-of-sync strategy – like Di Grassi's who finished second – looked promising. On the other hand, the second stint was trickier as my setup wasn't ideal. I couldn't get the car to do what I wanted and I remained stuck behind Engel. Abt got past me with the help of his fan boost and then I repassed him on the last lap. We made light contact and I finished fifth. While it's not really satisfactory I can take away some positives."
"The overall result is disappointing", co-owner of the team Jean-Paul Driot admitted
"Sebastien's first car was very good, but the second one lacked efficiency. Our out-of-sync strategy was the right one although Engel managed to slip in between Di Grassi and us. As it's very difficult to overtake on this circuit we were stuck behind while the gap opened up to the leaders. Even if Seb finally got past Abt and finished fifth it's difficult to be satisfied with this result. We're going to keep on working to get as high up the classification as possible. As for Nicolas, he was hit at the start and we thought he would be able to go to the end of his first stint. Race Control finally forced him to stop – rather a late call!"
.@nico_prost met a rider during his #trackwalk. Can you recognize him?#ABBFormulaE #ParisEprix pic.twitter.com/CYwo1GYFxs

— RENAULT e.dams (@RENAULTedams) April 27, 2018