Toyota's team principal was probably the happiest of them all at Rally Sweden's finish. The video of a jubilant Tommi Makinen toured around the world after the unexpected victory of Jari-Matti Latvala in the second 2017 WRC round.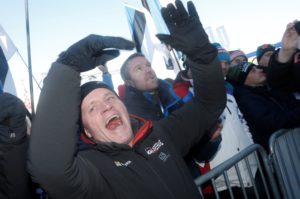 "It's very hard to find the words to describe what I am feeling right now: what we are all feeling", Makinen commented. "[The podium in] Monte Carlo was an unexpected result, but this is beyond unexpected. Of course we were lucky to have this win, but it's also a huge tribute to the talent of Jari-Matti and the united team work that has taken place in Finland, Germany and Japan. It's an incredible feeling and I just want to thank everybody who has made it possible. This is a special day that we are all going to remember for a very long time, but at the same time we will keep our feet on the ground now and continue to work as hard as always."
Tommi Makinen about Latvala's win: This is beyond unexpected
Toyota won a rally for the first time since Rally China in 1999. Latvala inherited the lead after Saturday's super special stage, when Thierry Neuville broke his steering. That was the Finn's 17th career win, his fourth in Sweden, and his first since Mexico 2016. In total, Jari-Matti won six stages: SS1, SS4, SS13, SS16, SS17 and SS18 (powerstage).
"I am so, so happy. For a new team and new car to win its second rally: I really have no words. I think I drove my best power stage ever. Huge thanks to all the team. Now we are super-motivated to continue like this. I just can't wait to get to Mexico. It's fantastic to win but I also feel very sorry for Thierry. I have been in a similar situation myself in the past, so I completely understand how he must be feeling. We know we were lucky, so we need to carry on improving and working for our goal."
Juho Hanninen was a bit nervous at the beginning of the race. On SS5 he hit a tree with the front of his car and damaged the cooling system. The team managed to repair the Yaris and he continued, although far behind in the order. The focus was on getting more experience in the car and he got it, after which celebrated with the rest of the team.
"I am so proud to be part of this team of dedicated and hard-working people and so happy. This is an amazing result for all of us. From our point of view we spent the rally recovering from our mistake on Friday, but we completed plenty of useful testing and I increased my time and confidence in the car", Hanninen said.
We want to thank you all for a tremendous weekend. See the Saga of Rally Sweden 2017: https://t.co/8g9qjdgWjo ☺️

— Rally Sweden (@RallySweden) 12 February 2017