40 years ago Rally Monte Carlo was already one of the toughest and most famous races in the world. Skoda won its 1977 edition and did it in a remarkable fashion. This year's works car – Fabia R5 – features the same blue and red stripes as sported by the winning car from 4 decades ago.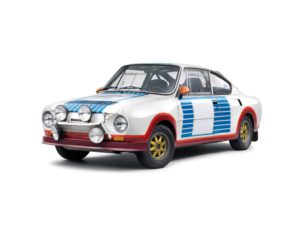 In 1977 Václav Blahna and his co-driver Lubislav Hlávka won the class for cars with up to 1,300 cc. Their success was with Skoda 130 RS. This shock success is one of the milestones in Skoda's 116-year motorsport history, the crowning moment of which came in the form of the world championship title in 2016.
"Skoda is proud of its magnificent tradition in motorsport, and of such iconic racing cars as the Skoda 130 RS," said Skoda Motorsport Director Michal Hrabánek. "For this reason, we are remembering the success of 40 years ago at the Rally Monte Carlo with a special livery for our Fabia R5. The awareness of the brand's outstanding motor racing history is the driving force behind our current motorsport activities. As well as our works drivers Pontus Tidemand and Jan Kopecký, Andreas Mikkelsen will also drive the Fabia R5 at the Rally Monte Carlo."
Experienced WRC driver Mikkelsen is making a guest appearance for the Skoda works team. In doing so, he returns to his roots. The 27-year-old Norwegian began his rise to the top with titles in the Intercontinental Rally Challenge in 2011 and 2012. Back then, he was victorious in a Fabia Super 2000. Mikkelsen and co-driver Anders Jæger familiarised themselves with the Fabia R5 at the first tests on snow last December.
Skoda Motorsport once again puts its faith in its two works drivers, Kopecký and Tidemand, in 2017
The rapid Swede and co-driver Jonas Andersson will also pursuit points at the second WRC round. It takes place in his native Sweden (9 to 12 February). Tidemand/Andersson have their sights set on succeeding Esapekka Lappi/Janne Ferm, who won the Drivers' and Co-Drivers' title in the WRC 2 class of the world championship for the manufacturer from Mladá Boleslav for the first time in 2016.
Jan Kopecký and Pavel Dresler will primarily be competing in the Czech Rally Championship in 2017. They remain unbeaten in the Fabia R5 in the Czech Republic. Kopecký and Dresler won ten out of ten races in the last two years. Now they are out to complete a hat-trick of titles in 2017.
With the world championship title, three continental titles, and ten national titles in the Fabia R5, the team enjoyed one of its best years on the rally routes of this world in 2016.
You can't get enough of our @monterallye livery? 🙂 This is the historic role model, our #SKODA 130 RS. @OfficialWRC #WRC2 @AMikkelsenRally pic.twitter.com/QZJRbKKsAU

— ŠKODA Motorsport (@MotorsportSkoda) 17 January 2017