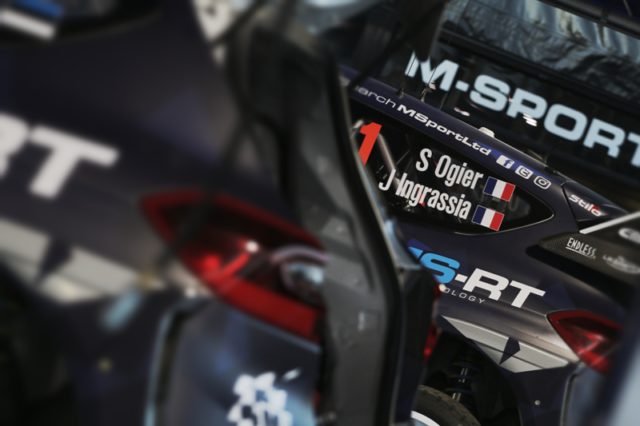 Sébastien Ogier has 5 starts in Rally Monte Carlo and turned four of them into wins. This year however, the Frenchmen will start at something of a disadvantage. With limited seat time in the Ford Fiesta WRC, he will have no choice but to learn on the job.
Sébastien Ogier said:
"It's a new season in every sense of the word – a new era, a new car and a new team. We all know that experience is an important factor in rallying and it would have been nice to have had more time with the team, but we have learnt a lot over the past month."
"Over the years, I have learnt to be pragmatic in my approach and to focus on the job in hand. That is exactly what we plan to do. We've not had a lot of preparation, but we go to this first event determined to do our best."
"We had two days of testing in typical Monte conditions last week and we all know the secret to doing well at this event – it's all about making the right tyre choice, anticipating the conditions and judging the grip levels. If we can do all of that whilst continuing to grow as a team then I think we could be in a good position."
"I've had a lot of success at Rallye Monte-Carlo, but I never fail to feel humbled in the face of such a historic and challenging event. It is an event like no other, and if you do well there then you know that you have delivered your best."
New season! New team! New helmet! But still very proud and happy to remain in the #redbullfamily ??? @MSportLtd @redbullmotors pic.twitter.com/0HHzp4bqxh

— Sébastien Ogier (@SebOgier) 17 January 2017
His new teammate Ott Tänak is also new as a regular driver for M-Sport. He also has a new co-driver – Martin Järveoja, but is more determined than ever to show his skills. His best result in Monte Carlo was 7th place in 2016.
Ott Tänak said:
"I can't wait to start this season. There are a lot of new things happening and it's a whole new challenge – I'm sure that it's going to be interesting."
"So much hard work has gone on behind the scenes to get to this point. The work that the whole team has put into this car is incredible and there's a real sense of excitement. It's all new, and no one will really know where they stand until we get out there on the stages."
"The feeling is good, but we start with what is one of the most difficult rallies on the calendar – Rallye Monte-Carlo. It's such a challenging event but actually the trick to doing well there is quite simple."
"Firstly, you need the experience from previously years. Secondly, you need to be consistent over all of the conditions. You need to avoid mistakes, make good tyre choices, and find a good set-up. If you can put that whole package together then you know you are going to have a strong event."
"The aim for this season is to be consistently strong. We've got quite a lot of experience now and we want to be scoring strong results, regularly. I'm so excited to chase my goals for this season, and there is not long to wait now!"
Here we go again, recce @rallyemontecarl pic.twitter.com/AX6EDzMm59

— Ott Tänak (@OttTanak) 16 January 2017
Team Principal Malcolm Wilson said:
"It's just around the corner – the dawn of a new era and a chance to see if all the hard work has paid off. The dedication that our team put into this car is beyond measure. I have to say that it is a very proud moment for me. That pride is for every single member of the team who have worked day and night to ensure we reached this point."
"We feel that we have produced another fantastic car. But no one really knows what will happen until all the teams meet for the first time in competition. You can feel the anticipation, and rightly so. This is going to be a spectacular year of rallying, and we find ourselves with the strongest driver line-up that we have had in years."
"You always want more time, but in our case that is especially true. Sébastien is a class-act, but with so little seat time in the Fiesta we have to admit that he will be starting at a disadvantage. That said, if anyone can succeed when the odds are against them, it's Sébastien Ogier."
"Then we have Ott Tänak – a man who I have rarely seen so determined and excited about the start of a new season. Ott is ready for 2017. And I firmly believe that we will see some special performances from him this year."