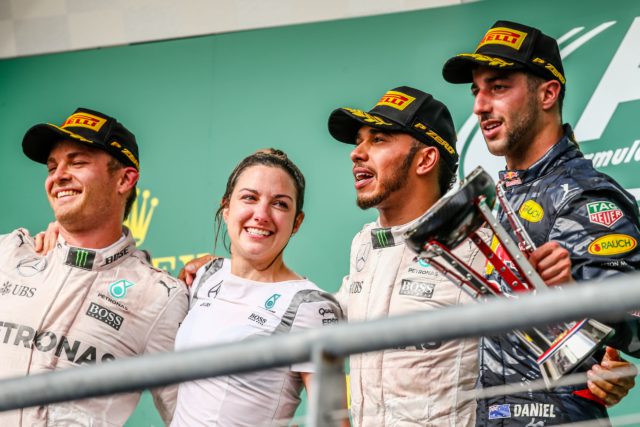 Lewis Hamilton trimmed the championship lead of Nico Rosberg to 26 points with a comfortable victory in Sunday's United States Grand Prix in Austin. This was the 50th win in his Formula 1 career. The German finished 2nd and Daniel Ricciardo in completed the podium.
As the lights went out, Hamilton this time pulled away cleanly, after the drama of Suzuka. While Ricciardo made use of his Super Soft rubber to clear Rosberg at the exit of the first corner. Hamilton controlled the first pit-stop phase to emerge with a solid lead, ahead of Ricciardo and Rosberg, with Verstappen also returning to the front group after a tricky opening lap.
Verstappen passed the fast-starting Kimi Räikkönen. Then he latched onto the back of Rosberg, who had swapped to the medium tyre, at one stage getting within DRS range. But his charge was halted when he hit a problem midway through the race, which limited his drive. This ultimately led to him retiring on the grass, which brought out the VSC.
Hamilton and Rosberg were given free pit-stops for new mediums, securing first and second, because Ricciardo has made already his second stop. He had to settle for the final podium place. Raikkonen was another frontrunner to hit trouble. He suddenly stopped his car with a cross-threaded wheel nut after his final stop, before rolling back into the pit lane and retiring. Sebastian Vettel benefitted from Verstappen and Raikkonen's issues to take fourth.
Carlos Sainz Jr. was on course to record his best ever Formula 1 finish as he held 5th position in the closing stages. But lost out to Fernando Alonso on the penultimate lap. The stewards will be investigating Alonso and Felipe Massa's earlier collision. The McLaren-Honda driver barging his way past the Williams through Turn 15.
Force India's Sergio Pérez beat the other McLaren of Jenson Button to eighth. While Romain Grosjean gave Haas something to celebrate at the end of its home event in 10th.
#USGP PROVISIONAL CLASSIFICATION: HAM takes the win ? ALO and SAI ? GRO and Haas ? #F1 pic.twitter.com/XOhyrbHjET

— Formula 1 (@F1) October 23, 2016