Everyone in the Renault team was delighted to finally get some more points in Singapore. Moreover, the result came on merit and not due to good luck. Kevin Magnussen finished 10th and the team hopes to get more points in the next races. Chief Technical Officer Bob Bell explains what lays ahead of Renault for the Malaysian Grand Prix.
What type of circuit is Sepang?
Sepang is a modern circuit with a mix of high and low speed sections where a reasonable high speed balance is required, but at the same time low speed braking stability and traction are equally important as well.
Traditionally, it has been a track that's very smooth which obviously helps with ride. The circuit has been resurfaced which hopefully will make it even better. We'll discover the new surface when we get there in a few days' time. Pirelli have allocated the hard, medium and soft compounds in Malaysia which is probably a bit on the harder side than what we'd prefer but let's see how they will fare.
What type of set up are we anticipating?
It tends to be one of those circuits where we will be working on fine tuning the car as it isn't a track that requires an extreme set-up focusing on any particular challenge.
Is the team's focus solely on 2017 now?
We still continue to work on development in Malaysia, a carry-on from what we've done in Singapore and some of that is relevant for next year. Next year, of course, there are big changes coming into force with completely different aero packages, so it's more the direction of the concepts rather than the physical changes we make to this year's car.
Bob Bell: "As a team we have progressed well since the beginning of the year"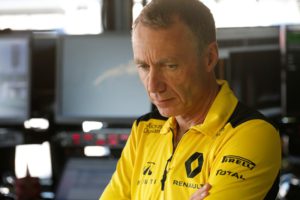 How is the development going for next year?
Back at the factories, we are meeting milestone deadlines with the practical process of drawing the components, getting them made and bringing them together. This is a very involved and complex process and is largely on-track at the moment. The hunt for performance in those components continues unabated !
Where is the current focus for development for the team?
As a team we have progressed well since the beginning of the year. Recruitment has been key these past few months, and still is. Although the aim is to have around 650 employees it is always about quality not quantity. We can see visible signs of change even walking around the sites compared to what it was six months ago. You can see the increased headcount and renewed facilities. The changes are palpable and we feel a sense of achievement which at the moment is not yet visible on track. Beneath the surface wheels are most certainly turning.