One of the world championship's iconic events, Portugal is a rally that all drivers dream of winning one day. Its immense popularity with fans is unrivalled anywhere else and its beautiful stages are clearly appreciated by all who tackle them. Kris Meeke, winner here in 2016, and Mads Østberg, who prevailed in 2012 when the rally was still held in the Algarve, clearly know a thing or two about the event.
Mads Østberg will be twelfth on the road on day one, is back in the team
He had an encouraging sixth place in Sweden on his competitive debut in the C3 WRC. He possesses the experience and consistency to secure a strong result.
"I'm delighted to be back in the team after my last race at Rally Sweden, which already seems like it was light years ago! With this long break, I might need a bit of time to get my bearings again. But I had a good day testing with the C3 WRC before Argentina. The feeling in the car was very good and I felt confident fairly quickly", Østberg commented.
"Rally de Portugal is obviously a bit special for me, as it's the only one I've won in the WRC, but at the time it was held in the Algarve. However, this year my approach will perhaps be slightly more cautious, so I can get my bearings back and make it to the end without any problems. Then I'll be ready to go for a big push in Sardinia!"
Many good memories in this car #Adaptadays https://t.co/k7vbIu8SPw

— Mads Østberg (@MadsOstberg) May 16, 2018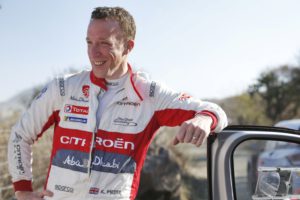 Kris Meeke was third in Mexico this season
He was on course to secure the same result in Argentina before a puncture put an end to his fight. Now Meeke looks back to the podium.
"After two fairly specific rallies on gravel in Mexico and then Argentina, Rally de Portugal will be the first real test in terms of out-and-out performance. As the stages are unchanged from last year, everyone has the pace notes and the same knowledge of the roads. I'm going to try and take advantage of my sixth position on the road on day one. It's a rally that I really like and I have high hopes that like in Argentina, I can show the progress that our C3 WRC has made on this surface", he said.
Who is coming to @OfficialWRC Rally de Portugal?
Here are the Highlights! #krismeeke #citroen pic.twitter.com/ikMr6hHTfg

— krismeeke.com (@krismeeke) May 14, 2018
Meeke's co-driver Paul Nagle has lived through some fairly scary moments in the car
But he also shared the nicest minutes with him such as their Portugal win in 2016.
"It was a great performance from us because we had led from the second stage until the finish. It was a much more solid performance than our first WRC win, that we claimed in Argentina the year before. This time we beat the Volkswagens, which were dominating the championship at the time, whereas they had had problems in Argentina", Nagle remembers.
"It followed on from some good performances that we'd had in Monte and Sweden during the partial programme we did that season, except that up to that point we hadn't managed to turn our pace into a top result. It was also another stage in our rise through the ranks: there are plenty of crews that have won one rally but claiming a second win was confirmation we had really arrived, and it filled us with confidence going forward. Portugal is also one of the championship's oldest and most iconic rallies. I remember us coming into the Fafe stage as overall leaders. It was a pretty amazing feeling, being surrounded by all these cheering, excited fans!"
Here's some useful information for this week! #WRC #RallydePortugal pic.twitter.com/ZjupIB3GAz

— Citroën Racing (@CitroenRacing) May 14, 2018