It is one of the toughest race tracks in the FIA World Rallycross Championship (World RX): this weekend (28/29 April) the circuit in the mountains of Montalegre (Portugal) awaits the EKS Audi Sport team and the Audi S1 EKS RX quattro.
The circuit is located 1,000 meters above sea level and close to the Spanish border. It has a unique character – with fast corners on tarmac, a long straight and a tight and twisty gravel section featuring high curbs. "To find the best set-up compromise for this is a real challenge every time," says Audi factory driver Mattias Ekström. In 2016 he managed this successfully even though he missed the final due to being involved in somebody else's start line accident. "Last year, we were not the fastest in Montalegre but as a team still took the win in the end. I love this track and the Portuguese spectators, who are mega enthusiastic about motorsport and rallycross."
Find out more about the new Audi S1 EKS RX quattro from @EKSRX Audi Sport. @FIAWorldRX @mattiasekstroem @AndreasBakkerud #WorldRX #CatalunyaRX #EKSRX #LeagueofPerformance pic.twitter.com/GSvjwn5gED

— Audi Sport (@audisport) April 15, 2018
The classic rallycross circuit attracts tens of thousands of fans every year to the remote mountain region. They turn the event into a real festival. Ekström's new teammate Andreas Bakkerud is also a big fan of Montalegre. "It is one of my absolute favourite tracks. I've always felt completely at home on it," says the Norwegian. "The track has a fantastic layout. When you really get going there's nothing better."
The circuit in Portugal awaits the EKS Audi Sport team and the Audi S1 EKS RX quattro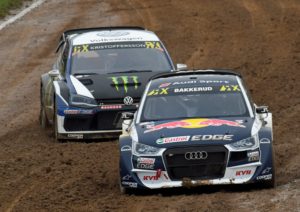 At the season opener in Barcelona, Bakkerud claimed a podium finish in his first outing for EKS Audi Sport in the World Rally Championship. "I'm slowly getting accustomed to the Audi S1 EKS RX quattro. Hopefully, I'll be even faster in Montalegre," he says. For Mattias Ekström there is anyway only one goal: "We want to fight for victory again."
This can actually be the reality this weekend ??‍♂️ @FIAWorldRX https://t.co/IR1DG0sZrY

— Andreas Bakkerud (@AndreasBakkerud) April 24, 2018
After the first of twelve World Championship rounds, Bakkerud and Ekström lie in third and fourth in the Drivers' World Championship. They are behind the two Volkswagen drivers Johan Kristoffersson and Petter Solberg. In the team classification, EKS Audi Sport holds the second place between Volkswagen and Peugeot. The two Audi drivers prepared themselves for the World Championship round in Portugal last week. They went through with an unconventional training method: driving karts. "This heightens the senses and strengthens the muscles," says Ekström.