The Toyota World Rally Team returns to Latin American gravel for round five of the season, Rally Argentina, on April 26-29. After a fine second place finish on the asphalt of Corsica last time, the team will once again hope to demonstrate its progress with the Toyota Yaris WRC, driven by Jari-Matti Latvala, Ott Tänak and Esapekka Lappi.
Team Principal Tommi Mäkinen is sure Toyota will go better in Argentina in comparison with the team's performance there in 2017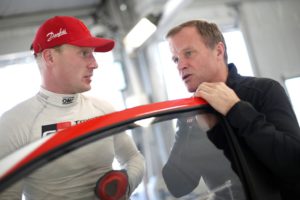 "We learned a lot last year and of course, over the whole course of the year since then. Our car is improving all the time, and it's always easier when you go to a rally for the second time. However, it's also true that our rivals are stronger than ever, so I think everyone will start the rally on a very equal footing, which should make it a nice battle", Mäkinen said.
"We have been testing in Sardinia, as those are the closest conditions you can find in Europe to Argentina. I think it's quite representative. In Argentina, you have many different types of road surface – some soft, some hard, some with rocks, some quite clean – and adapting to them all is probably the biggest challenge. Hopefully, with the latest improvements we have brought to the car, it can be strong under all those different circumstances and on different roads: this is our aim. The drivers seem to be happy, and I remember from when I was driving that Argentina was one of my favourite rallies. It's very difficult, and a huge challenge, but also a lot of fun to drive."
Jari-Matti Latvala has some very enjoyable moments from Argentina, including his win in 2014
"It is a really challenging event and that makes it very satisfying when things are going well. There is a nice mixture of different stages over the weekend, from the fast and sandy roads in the valley on Friday to the rougher mountain stages on Sunday, including the famous El Condor, which is the Power Stage again this year. It is always a very spectacular stage with all of the fans up on the hillsides cheering us on. Argentina is a very demanding rally for the cars, and we learned a lot there as a team last year. Together, we are working hard to constantly improve the car, and hopefully, we can show some good progress. It would be good to get some more points on the board", Latvala explained.
Can't wait to taste again the amazing Argentinean atmosphere! Nos vemos pronto @rallyargentina ! ✌️??#SISU #WRC #TOYOTA #YarisWRC pic.twitter.com/gEaOvynA6u

— Jari-Matti Latvala (@JariMattiWRC) April 20, 2018
"There are some nice smooth and fast stages but also some pretty technical roads, so it's a rally where you get a bit of everything in one weekend. It's also really demanding on the cars, as the stages can get pretty rough. I finished third there last year, and that gives me confidence that I can perform well this time. I'm also feeling good after our pre-event test in Sardinia: the roads went from wet to dry during the test and the surface can be just as rough there, so I think that we got just the right conditions that we needed for a good test for Argentina. I am pretty happy with the improvements that we were able to make to the car and now I am eager to see how we are going to compare against the others", the Estonian added.
Less than a week before the second proper gravel event starts! ??
We are totally waiting for it, what about you guys? ?
———#RallyArgentina #WRC #TGR_WRC #Toyota #YarisWRC #RallyModeON @MartinJarveoja @OfficialWRC @TGR_WRC pic.twitter.com/SiUWn0p9G6

— Ott Tänak (@OttTanak) April 20, 2018
Esapekka Lappi has not competed in Argentina before
But he has done the recce twice, so he has some picture of what the rally is like.
"I have heard that it can be the toughest round of the championship: the surface can get very rough in places, and there are a lot of rocks, so you need to take care sometimes. It looks as though on Friday the roads are going to be a little bit softer than on Saturday, and then on Sunday in the mountains there will be more loose gravel and rocks. I am really confident that we can do much better in Argentina than in our last gravel rally in Mexico, where I think I learnt quite a lot. It is usually a rally where a lot of things can happen, so it might be that my main target will be to just try and stay out of trouble, but let's see how it goes", Lappi said.