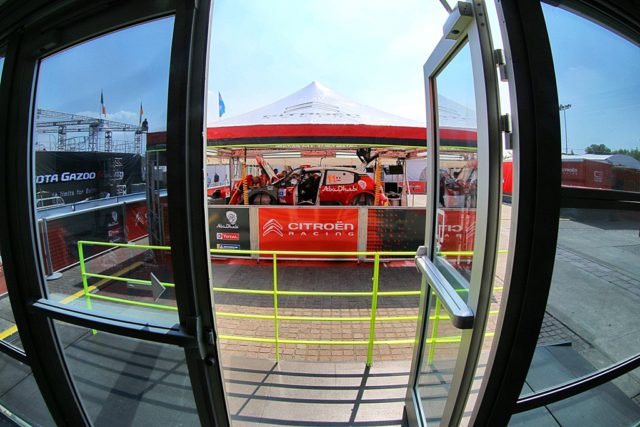 After two winter rallies and one on gravel, Citroen is back on tarmac for its home round of the World Rally Championship. Kris Meeke – Paul Nagle and Sébastien Loeb – Daniel Elena, the latter crew making the second of their three scheduled appearances in the WRC this year, feel the determination to be among the frontrunners at one of the most iconic events on the calendar.
The first full tarmac rally of the season, the Tour de Corse has often been dominated by specialists of the surface
Its technically-demanding stages call for finesse, precision and even a little virtuosity behind the wheel in order to get the absolute maximum from the tyres, without ruining them in the process. With Kris Meeke – Paul Nagle and Sébastien Loeb – Daniel Elena, who have claimed four (2005 to 2008) of the brand's six wins at the event during its inclusion in the WRC, Citroen has a particularly good chance to challenge at this, the 61st edition of the classic island race. The team has genuine hopes of winning in Corsica.
Until he retired last year, Kris Meeke had won three out of the five stages contested up to that point. Since then, he has also claimed a magnificent win at the 2017 Rally de Catalunya, which suggests that his C3 WRC is very fast on tarmac and that he is at one with the car on this surface.
However, Sébastien Loeb will not be expecting to be out of the fight
After his spectacular comeback last month at Rally Mexico, the nine-time World Rally Champion – whose last outing on full tarmac in the WRC goes back to the Rallye de France-Alsace 2013 – returns to Corsica and a surface that he loves driving on, and on which he has often enjoyed success in the past. He certainly didn't need any time to get back the feeling to the surface again during the test session held in Corsica last week. The test also enabled the team to assess its range of set-up options for the various types of surface encountered on the island's atypical roads.
"Following two consecutive podium finishes in Sweden and in Mexico, we are going to pull out all the stops in Corsica to secure our first win of the year", team principal Pierre Budar said.
"In any case, we have given ourselves every chance with a four-day test session in Corsica, which proved to be very positive. Having said all that, it's still a race – and one of the toughest on the WRC calendar at that – with many variables and uncertainties, especially as regards the weather at this time of year. But Kris and Paul proved last year that they have the ability to win here. And after their masterful display in Mexico, I don't see how Sébastien and Daniel won't be in the mix, especially at an event where they have been always been impressive in the past."
Kris Meeke defined the fourth round of the world championship as "one hell of a challenge, with many difficulties"
"But I've always enjoyed racing here. We were very competitive here last year, although we have seen since the start of the season that everyone has made progress, but I hope we can still get among the frontrunners. Our pre-event tests, held on a wide variety of roads, were very productive. I get the feeling that we have progressed further on the dirty and bumpy sections. In any case, I came away from my test sessions pleased with the work done and I can't wait now to get started!"
This 4th episode of Little Big Racing will be outstanding! #C3WRC, @SebastienLoeb & @DanosElena will take the road of @TourdeCorseWRC in parternership with @Citroen. See you on April 5, we'll be live on Facebook for #C3WRClive.??? pic.twitter.com/rFkKR1g364

— Citroën Racing (@CitroenRacing) March 30, 2018