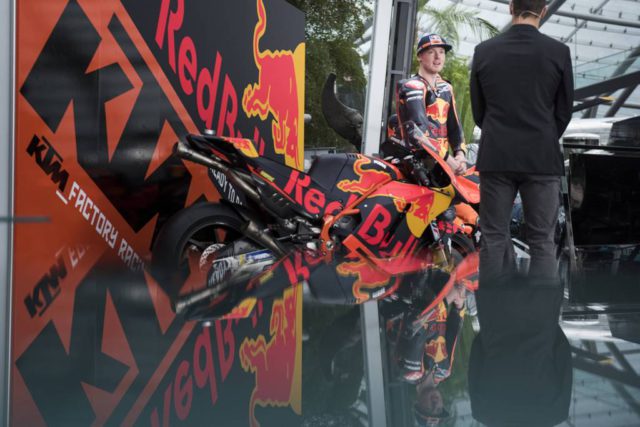 Red Bull KTM Factory Racing pair Paul Espargaró and Bradley Smith are keen to build on last season's strong finish. Both riders believe they can challenge more consistently for top-10 finishes when the new MotoGP season gets underway in Qatar this weekend.
The Red Bull KTM Factory Racing duo struggled in the first half of 2017's debut season before finding an extra gear to pip Aprilia for fifth in the final manufacturer standings.
Spaniard Espargaró looks to be recovering well from recent hernia surgery, while Briton Smith ended 2017 with three excellent displays
"I feel better than I did last week when we went to the Qatar test. I wanted to be there. Even if I couldn't do the three days. I am not 100 percent, but better than I expected", Espargaró explained his condition after a crash during winter testing at Sepang.
"I have had time to rest, train and get ready for the first race. The bike needs someone very fit on it and I will try to do my best. Being strong physically is a very important part for these MotoGP bikes as they are shaking quite a lot. Everyone is super talented and super fit, so if you are not in top shape and perfect you can feel it. I have lost quite a lot of days riding the bike but the team have done a good job continuing to develop it."
And what is the target this season for him?
"The good thing riding for KTM is you never know where you are going to finish. Nobody could say last year when we started at the back that during the middle of the season we would be in the top 10. We want to start where we finished last year, fighting for the top 10 and, hopefully, finish in the top six. We want to do some good results like that", Espargaró added.
You look amazing ? // Estás preciosa!!! @KTM_Racing @redbull #TeamLaunch pic.twitter.com/7Mmxj3W0Zg

— Pol Espargaró (@polespargaro) March 12, 2018
Bradley Smith said that the pre-season with 14 days of testing was fantastic for him
"We are constantly developing, moving forwards and getting faster. To keep improving is all we can expect from ourselves. When the green light goes on Sunday it will be good fun", the English rider.
"I am a kid in a sweet shop when it comes to KTM and new parts! When I see a testing programme full of new items it always brightens my day, especially when 70 percent of the stuff we try is making me feel more happy and comfortable on the bike. That is something that was missing at certain points last season."
"[2018] is a big season. I think six guys are already confirmed for the future and that is something all riders have in the back of their mind because we are doing what we love and, obviously, we want to still be here. I think both Pol and I came to this project for more than two years. We have had a fantastic first one, and I can't imagine it will be anything other than fantastic this year. What a story it would be to take this bike from the last couple of positions to a podium or race win. We believe in everyone around this project."