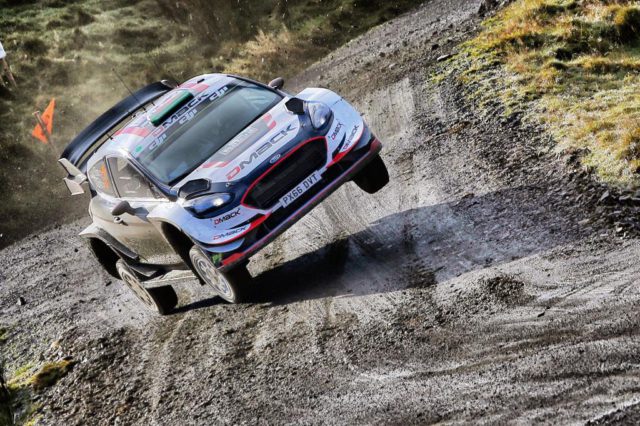 Elfyn Evans rewrote a couple of pages in the sporting history books last Sunday. By winning the 2017 Dayinsure Wales Rally GB, the 28-year-old from Dolgellau not only scored his maiden WRC victory but also became the first Welsh driver ever to win a round of the illustrious FIA World Rally Championship.
What's more, Evans' famous victory on home soil also helped his Cumbrian-based M-Sport team to lift the WRC Manufacturers' title and saw him become just the fourth British driver to win the UK's prized round of the FIA World Rally Championship – and the first since 2000. His name now joins those of Roger Clark (1972 and 1976), Colin McRae (1994, 1995 and 1997) and Richard Burns (1998, 1999 and 2000) on the long-running event's coveted Peall Trophy.
With the full magnitude of his achievement just beginning to sink in, here are Elfyn's immediate thoughts just a couple of days after his amazing victory in Wales.
A few days on, how does it feel to be the winner of the 2017 Dayinsure Wales Rally GB?
"It feels incredible, to be honest. There are some unbelievably big names on that trophy going back many, many years and it is a privilege to have my name added to them."
How does it feel to be joining such an impressive list of British drivers: Roger Clark, Colin McRae and Richard Burns?
"It still feels a bit surreal – they are very much legends of the sport. You aim for big things and want to do the best job you can, so to get a win like this is very special. It's a bit of a landmark and a massive tick in the box; now we want to try and do it more consistently."
This officially is the 'Year of Legends' in Wales and lots of people are calling you a legend, how does that feel?
"I don't think I'd agree with that statement, to be honest – legend is a big word. You need to leave behind something pretty special to be worthy of that word. I don't think I'm quite there yet. I am, though, very grateful to everyone for their support and their kind words – it was an incredible weekend."
You weren't even a teenager when McRae and Burns were winning; even so, did their accomplishments still inspire you growing up?
"Many of my earliest rallying memories were watching Richard and, particularly, Colin. I have a vivid memory of watching a blue Subaru coming into sight, sliding at 90 degrees to the road in a forest somewhere in south Wales. As a young child, those memories have stuck with me ever since."
Your father, Gwyndaf, of course, was a British Rally Champion – he must have been another great role model?
"My Dad obviously played a key part throughout my career. Contrary to what people think, though, he didn't really help on the driving front as he let me find my own feet in the early days. Where he really helped me was behind the scenes. And, as my career developed, he was instrumental in working out what route we go down, and what we do next. My whole family sacrificed quite a lot and I am really happy for all of them and everyone else involved – this is a big thank you to them."
It must have been even more special to have had so much home support cheering you on to victory?
"We don't need to be motivated to do this job and you should be at your best all of the time but, that said, there was such an electric atmosphere throughout the event, which really puts a fire into your belly. It makes it very special to pass all those flags and cheering spectators. The finish was quite an emotional moment both for me and my co-driver Dan [Barritt]."
What went through your head at the end of the final stage when you knew you'd won?
"There were no specific words, but my first feeling was one of relief! The relief to finally win an event was huge. We had a taste of it in Argentina when we led for the majority of the rally only to lose it on the final stage. So, to do it this time was all the more satisfying."
The result was a real 'Best of British' with you and Dan, your M-Sport-built Fiesta WRC and your DMACK tyres all hailing from this country – that must make you very proud?
"Yes, it's a fantastic story. The guys at DMACK have done an incredible job to develop these tyres in such a short space of time. And now to win a WRC rally is brilliant for them. I have been part of M-Sport for so, so long and they all work exceptionally hard. I think there are a lot of happy people up there in Cumbria. Not only is it a dream come true for me, but it's also an even bigger dream to be part of what is a full British win."
So winning Dayinsure Wales Rally GB is one box ticked, what's the next one?
"Rallying is all about experience and winning adds massively to that experience. You have to learn all the time, deal with situations and improve upon it. Argentina [when Elfyn came agonizingly close to his maiden WRC victory] was an experience that I learnt from last weekend. Now, this win has given me a confidence boost heading into future rounds. Nothing is confirmed yet. But everything is falling into place for next year and this win will certainly help me going forward."
It's been a very special day, to take my first ever @OfficialWRC win on home soil is something I could only dream of. Thanks to all the fans pic.twitter.com/8LSopzFmX8

— Elfyn Evans (@ElfynEvans) October 29, 2017