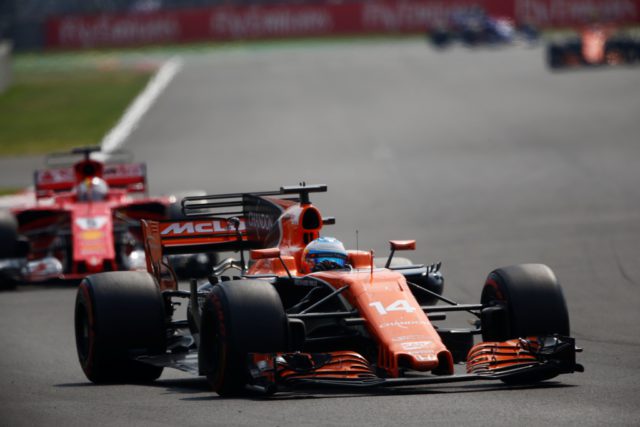 The McLaren team had an overall good race in Mexico according to Fernando Alonso. Both he and his teammate Stoffel Vandoorne made great starts. The Belgian was up to 13th by the end of lap one, with Fernando just behind in 14th after lap two (from 18th on the grid). By lap five, Stoffel was up to 10th position, with Fernando in 12th behind a struggling Romain Grosjean. The pair fought a firm battle in which the latter gained an advantage off the track and was later penalised, although Alonso was still able to pass him and move up to 11th behind his teammate.
Both McLaren drivers were then caught behind the Sauber of Marcus Ericsson for some laps, unable to get close enough in the corners to make a move after the straight. On lap 18, Alonso overtook Stoffel to give him the opportunity to attempt a pass, but he too struggled to make headway on what is notoriously a difficult track on which to overtake.
Following Brendon Hartley's retirement on lap 30, a miscommunication in the pits due to the late deployment of the VSC meant Vandoorne was called late into the box and his pitstop was delayed, causing him to lose over five seconds in the stop and ultimately a position on the track to Felipe Massa. He dropped down to 11th and then later 12th on lap 52, after a short-lived battle with a championship-fighting Lewis Hamilton. Despite a long and close fight with Massa over the closing 15 laps of the race, Stoffel was unable to capitalise on his strong pace and make a move stick, and he finished the race in 12th position.
"Overall it was a good race, considering we started at the back of the grid, and we finished in the points", Alonso commented.
Fernando enjoyed a feisty battle with Sebastian Vettel, and despite ultimately forfeiting that position, was up to eighth when he boxed a lap later than Stoffel on lap 32, losing only one further place during his stop. He then set about chasing down Kevin Magnussen, in which he made up a deficit of over eight seconds to close up to his rear wing and spent a long time – the pair battling for 34 laps – in his dirty air unable to pass. A close tussle with Hamilton ensued in the final stages, providing hugely entertaining viewing for the fans in the grandstands until Fernando was forced to concede four laps from the chequered flag. He ultimately finished the race in 10th place and scored a well-deserved point.
"Overall it was a good race, considering we started at the back of the grid. And we finished in the points. The car felt very nice all weekend. Strong in the corners, and we had good handling and good balance throughout the race", Alonso commented.
"We lacked a little bit of straight-line speed to attack or defend. So we were stuck behind a Sauber for half of the race. And then we could not pass Magnussen for many laps. As soon as we lost the DRS with him we became very vulnerable. So in the end, I think there was nothing we could do to keep Lewis behind."
"We fought hard, trying to brake a little bit later every time and defend the position. But we couldn't manage to keep ninth place and save that point. It was a good battle but it's hard when you don't have the same car."
Gracias @OconEsteban !! La colección del @CircuitoMuseoFA crece!!

Thanks @OconEsteban !! The @CircuitoMuseoFA collection keeps growing!! pic.twitter.com/fRqm1XKkb0

— Fernando Alonso (@alo_oficial) October 30, 2017
Vandoorne also stated his start at the Autodromo Hermanos Rodriguez was amazing
"But we've seen in the race how much we are missing in a straight line", he continued.
"We couldn't even keep a Sauber behind and we couldn't really overtake after that, so we lost ground. But our pace in clean air was very positive. The car felt very good, and starting from the back we knew it was always going to be tough for us."
"The end of the race got very exciting with a few cars coming close together. But it still shows that our straight-line speed is not good enough. It was a difficult race for us. There were definitely points on the cards. But we were just too compromised because of our speed and losing time in the pitstop with the late VSC call. The positives we can take away are that our pace was really strong and we made it to the end. Our deficit on the straights though is still too big."
See you Mexico; nos vemos la próxima vez! ???????? #MexicoGP #SV2 pic.twitter.com/PXrAVVQrW0

— Stoffel Vandoorne (@svandoorne) October 29, 2017