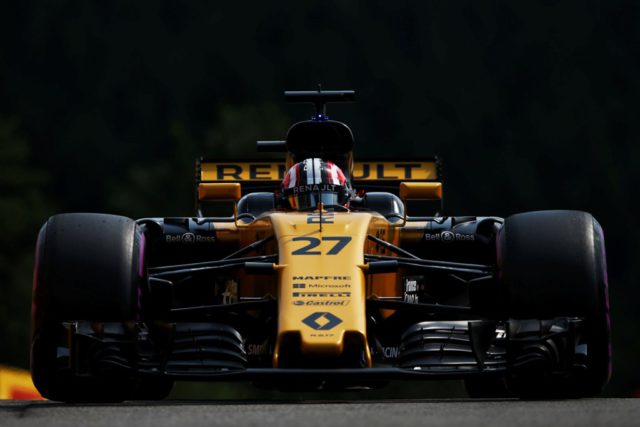 A low downforce configuration made things tricky in Monza, but Singapore offers a complete contrast of set-up as Renault Technical Director Nick Chester explains.
What are the challenges of Singapore?
Firstly, it's massively different to Monza and almost a stark contrast as a high downforce package is required, and that should suit us pretty well. There are a number of things to look out for: tight corners, big kerbs and a lot of traction demands, meaning it can be a hard place to get the right set-up. But if you have a reasonable amount of downforce you should have a quick and competitive car. We'd expect to be back to our Britain, Hungary and Spa level of performance.
Are there any updates to deal with Marina Bay?
We've made softer rear springs to make the rear end more compliant which will aid traction. As ever, you have to get the compromise right as it's a balance between a compliant chassis and not losing too much aero performance. We have some minor updates to the bodywork which we will evaluate during the practice sessions.
How do you reflect on recent weeks?
We've kept improving the car which has been very positive. Since Silverstone the car has been a chunk more competitive. Budapest and Spa kept that trend up and we were the fourth quickest car in terms of pace. We weren't as quick in Monza, but the upcoming races should see us back to the level of performance we saw at Spa. There are no remaining tracks with super low downforce. We have good potential to be strong at these next three Asian races.
How are the 2018 developments progressing?
We have to get the Halo on the car for next year and that's a big challenge. That will be a big deal as it changes the chassis construction. There are other developments in the pipeline, we are still learning lessons from this year's car and aiming to transfer that knowledge into next year's car.
We love being helpful. So we quizzed our drivers on their fave things in case you meet them. Or end up in the same karaoke bar. ? #QuickQuiz pic.twitter.com/iUk9N9E3Sx

— Renault Sport F1 (@RenaultSportF1) September 8, 2017