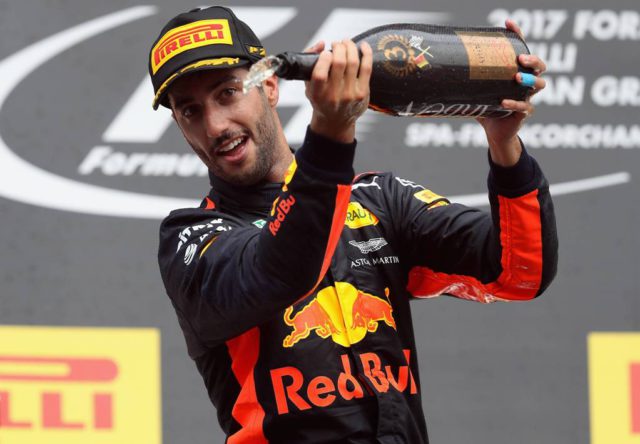 While Daniel Ricciardo was celebrating his third place in the Belgian Grand prix, his Red Bull teammate Max Verstappen had long ago done his interviews, having lasted barely 8 laps in his home race.
The Australian once again showed superior driving style, joking afterwards that this performance has a lot to do with his treatment towards the car.
"I know it's pretty much full of Dutchies, so thanks for hanging around, appreciate it, we all do. We had pretty good pace mid-race and then we got the safety car. I knew we'd been given a bit of an opportunity with that and it was good to capitalise on that with Valtteri [Bottas] on the restart", Ricciardo said.
"I do a lot of things with my driving style. Which is very nice to the car. I actually talk to it a lot during the race. Massage it. I wouldn't call it foreplay. But it's something like that and Max is young, he's aggressive, he goes straight in! I know you're shaking your head but I feel like you knew the answer would be something silly like that."
"In all seriousness, I don't have an answer for it. I have asked before. I've even asked all the guys in the team, the mechanical and also from the power unit side and I've said is there something you see Max is doing which I should maybe avoid and they said no, there's nothing he's doing. He's not over-revving it or anything silly. It's unfortunate. I commented on the podium that… I think it was Austria as well he had a big following there and all the fans still stayed, the whole weekend. Obviously they all want him to do well but I think they're racing enthusiasts so really nice that they stay around for the rest of the race and support us all. Yeah, I know he gets bigger cheers from them but I still feel like they are a good crowd, there's no aggression, it's all love.
When you love your car a LOT 😘

Perhaps a little too much, @danielricciardo? 😂#BelgianGP #F1 pic.twitter.com/9F5wD08ytq

— Formula 1 (@F1) August 28, 2017
Daniel Ricciardo: "I do a lot of things with my driving style which is very nice to the car"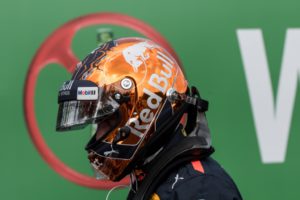 Max Verstappen did not hide at all his extreme disappointment:
"Not just because of my retirement but for the fans also. They pay a lot of money to come and watch the race, I then retire after only eight laps so it must be frustrating for them."
"We have had a good weekend up until that, we have worked really hard and qualifying went very well so I was optimistic for the race. Out of the last corner I shifted from third to fourth and straight away lost power, it went into some sort of safe mode. It has been a very tough year so far and we need to get on top of these problems which we will discuss as a team again. Obviously I am not a happy person so I'm looking forward to getting home. I will go away and regroup and come back with a positive attitude next week."
"I'm actually competing against @alo_oficial in terms of retirements… not happy at all" #BelgianGP 🇧🇪 #F1 pic.twitter.com/UzlrPagfPK

— Formula 1 (@F1) August 27, 2017
Christian Horner explained that Renault apologized to Max
"A fantastic piece of opportunistic driving by Daniel secured a great podium for the team today with third place. We felt we ran the correct strategy going into the race, as soon as it went to the safety car and it all bunched up we knew Daniel would get one shot at the restart against [Valtteri] Bottas and he made it work. He then fended off Kimi to the end securing P3; fully deserved after he drove a phenomenal race."
"Unfortunately it has been an enormously frustrating day for Max. Once again he was in a great position and through no fault of his own he has suffered another engine failure. Our engine partners have apologized. They are quite aware that their reliability and product isn't where it should be, while Alain Prost has personally apologized to Max. With that we as a team offer our apology to the mass of Dutch fans who came out to support Max at his home race."
"Max is a fantastic talent, driving at a phenomenally high level at present. And he's got great drive and determination. He'll come through this period and this season a stronger driver. I've no doubt he'll be determined to deliver his best again in Monza, despite the engine penalties we will take there, and the disappointment he feels right now, and that's the measure of the man he is."