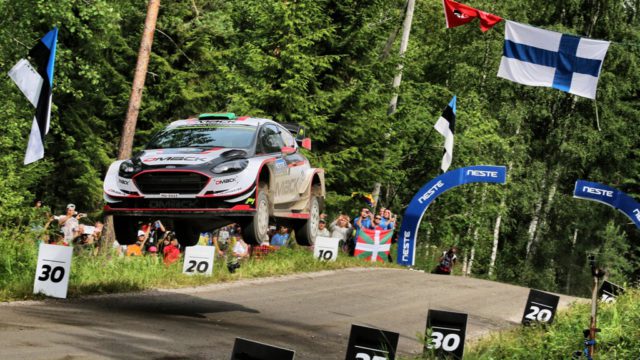 Elfyn Evans and Daniel Barritt stormed to second place at Rally Finland, securing the Ecoboost-powered Ford Fiesta WRC's twelfth podium of the year. The Fiesta set six fastest stage times including a 1-2-3 through the second pass of Päijälä (SS21) and a 1-2-3-4 through the second pass of Pihlajakoski (SS20).
Evans and Barritt put in a great performance to contradict the assumption that time cannot be recovered at such high speeds. The Brits struggled with the balance of their DMACK-shod Ford Fiesta WRC through the opening day – languishing in seventh position after the first thirteen stages.
But as the conditions improved, Evans found a more favourable set-up and the confidence to boot. With his newfound momentum, the Welshman became the field's comeback kid and set a number of consistently strong times – including the fastest time through SS21 – to climb five places from seventh to second.
Starting the last day's action in fourth place, Evans was in an intense battle for the podium positions – 1.3 seconds adrift of third and 5.6 seconds of second. As the fight entered the final stage, Elfyn was in third place – 0.9 seconds shy of equalling his best result of the season. Posting the second fastest time, he secured second place by just 0.3 seconds to claim his first podium on Finland's legendary roads.
"We're really chuffed to come away from Rally Finland with second place – especially as that wasn't looking likely on Friday evening", Elfyn Evans said
"We kept at it, kept pushing and managed to claw our way back up the leader board. It's a really positive way to finish the weekend. Friday was a very difficult day for us. We started without a test and were really struggling with the balance of the car throughout that opening day. [Then] we made some changes which helped quite a lot and the longer stages and drier conditions helped too. We started making our way up the order and it all went from there."
"Going into Sunday morning, it was a very difficult situation to be in. There was an element of wanting to push for the best result, but at the same time, it was really important to secure good points for the team. It wasn't an all-out attack, but it all worked out in the end.
"It's not the win, but it's still a strong weekend and we can be pleased with the job we have done this weekend."
Awesome fight that went right down to the wire for P2 by just 0.3seconds at @RallyFinland . Thanks @MSportLtd @DMACK_Tyres for another 🔝job pic.twitter.com/wNzOTG5NcM

— Elfyn Evans (@ElfynEvans) July 31, 2017
Team Principal Malcolm Wilson also pointed out that considering the team's Friday position, second is a great result
"Once Elfyn found the confidence that he had been lacking early on, he made quick work of climbing the order and his performance was fantastic. He hasn't made a single mistake all weekend and should be extremely proud of this result. Our record of podium finishes continues unbroken and we've strengthened our lead in the manufacturer championship – proving the Fiesta's performance on every surface", Wilson added.
"The team have continued to give 100 percent and, even after the disappointments on Friday, Sébastien [Ogier] has maintained the joint lead of the drivers' championship with Ott [Tanak] climbing to third.
"Teemu [Suninen] too has been sensational. It was a shame for him to miss out in the fight for the podium, but we can see the potential and his speed has not gone unnoticed. He has made the transition from R5 to WRC with incredible ease and I can't imagine we'll have to wait too long to see him challenging for a victory."
And the Fiesta does it again – never off the podium so far in 2017! #WRC #RallyFinland pic.twitter.com/TDPdWVcn5T

— M-Sport (@MSportLtd) July 30, 2017