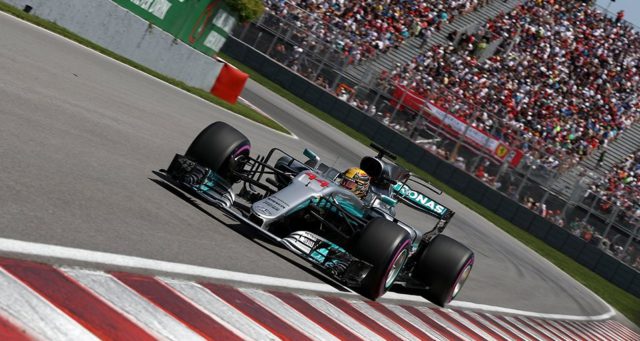 Lewis Hamilton won the Canadian Grand Prix. He capitalise on Sebastian Vettel's troubled race and close in on the title lead. Valtteri Bottas took second to give Mercedes its first 1-2 of the season.
Hamilton made a clean start to retain his pole advantage into Turn 1. The fast-starting Max Verstappen slotted into second, cutting across Vettel's front wing in the process.
A few laps later, after an early Safety Car for a midfield incident, elements of Vettel's wing broke off. That forced him to pit for a replacement, with Hamilton leading Verstappen and Bottas.
Hamilton was comfortably clear of the field when Verstappen suffered a suspected power unit failure, promoting Bottas to second, and putting Mercedes in complete control.
Ricciardo profited from the drama around him to take third. As Vettel recovered to fourth, passing the squabbling Force India drivers late on.
Vettel's championship advantage over Hamilton has nonetheless been trimmed to 12 points. While Mercedes perfect score moves it ahead of Ferrari by 8 points.
As the lights went out at a warm but windy Circuit Gilles Villeneuve, pole-sitter Hamilton made a clean getaway to stay at the front, as drama unfolded behind him.
Verstappen launched from fifth to second, clearing Bottas and Vettel, but his rear-left wheel chopped across Vettel's front wing, inflicting some damage.
Vettel's damage worsened over the coming laps. They were behind the Safety Car for a big crash involving Romain Grosjean, Carlos Sainz Jr. and Felipe Massa.
Sainz Jr. turned right on Grosjean exiting Turn 2, with contact sending Sainz Jr. sliding sideways towards Turn 3, where he clattered into Massa, ending both of their races.
As the race resumed, Vettel's front wing began to disintegrate, the right-hand side giving way along the Casino straight, leaving him with no choice but to pit for a new nose.
Up front, Hamilton went on to edge away from Verstappen. Before the Dutchman's Renault-powered Red Bull cut out on him exiting Turn 2, much to his frustration.
Hamilton ran longer than Bottas to emerge from his stop with a massive advantage, which he extended on Super Softs, rather than Softs, chosen by Bottas and Ricciardo.
Hamilton and Bottas, separated by around 20 seconds, cruised to the chequered flag, with Ricciardo some 15 seconds further back in the sole remaining Red Bull.
Behind, there was an almighty scrap between the Force India and Ferrari drivers, which Kimi Räikkönen dropped out of in the closing stages amid brake woes.
Sergio Pérez held fourth for the majority of the race. He ignored instructions to let closing team-mate Ocon past and attack Ricciardo.
Vettel in turn caught the pair, as Ferrari adopted a two-stop strategy. He passed Ocon into Turn 1.
Shortly afterwards, Vettel also got the jump on Pérez. He then slipped back into the clutches of Ocon, but held fifth.
Räikkönen nursed his car home to take seventh. He was followed by Renault's Nico Hülkenberg and Williams rookie Lance Stroll. The Canadian grabbed his first points on home soil.
Fernando Alonso had led McLaren's charge, running as high as fourth with a long first stint. But any hopes of a points finish were dashed by another engine failure.
PROVISIONAL CLASSIFICATION

First @MercedesAMGF1 1-2 of 2017

RIC's third straight podium

And that's only half the story…#CanadianGP pic.twitter.com/vUUHxgUgRQ

— Formula 1 (@F1) June 11, 2017