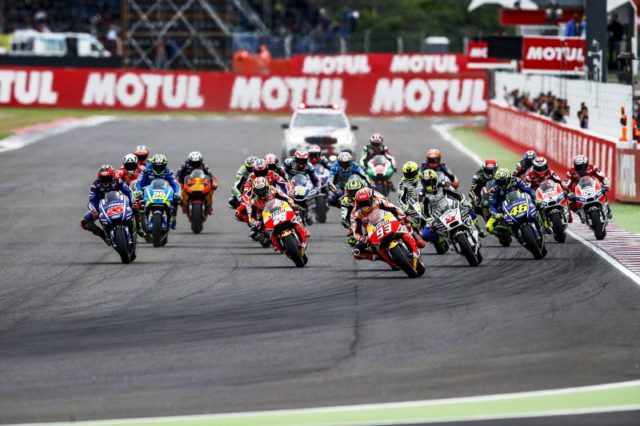 Marc Marquez crashed while leading the Argentinean Grand prix and admitted afterwards that it was his mistake. The driver apologized to Honda. It was an especially frustrating race for the team as Dani Pedrosa also did not finish.
"I was on the braking point for turn two, with not many degrees of banking, but I locked the front and crashed. It doesn't matter where, when or how, the final result is zero points. It was just my mistake. Of course I'm really disappointed with myself because I already said in Qatar – and I will say again now – mistakes at the start of the season penalise you quite a lot. It was completely my mistake and just sorry to the team and sorry to Honda", Marquez explained.
MARQUEZ goes down out of the lead! HUGE turn of events!#MV25 is up into first! #ArgentinaGP pic.twitter.com/WSAYhbaHdE

— MotoGP™ (@MotoGP) 9 April 2017
"We are human and we must understand why and think now about the next race. I was leading by two-seconds and people can think, 'he was pushing too much'. But I was not pushing a lot. I was riding on the good lap times. In Qatar we went the safe way and we were penalised because I wasn't able to attack. Here we planned to take the risk. But in the end, no excuses, it was my mistake and I must learn from this and try to improve for the future."
Marc Marquez still found something positive – that he's fighting for victories despite all the problems
There's still some work on acceleration.
Pedrosa also was not happy with how the race ended for him.
"I got a decent start. But then I lost time in the first part of the race duelling with Petrucci and Zarco. I started pushing hard after I passed him because I was feeling good on the bike and wanted to try and close the gap on the others to fight for the podium, but unfortunately I crashed in the second corner. There are a lot of bumps in that turn, and they create a tricky situation, as the grip is kind of 'on-off.' When you're pushing really hard, the limit becomes quite narrow. Of course it's a shame about the crash, but on another hand I'm happy I felt good enough to try and chase down the front group. We'll keep this motivation for the next race in Austin", Dani commented.
Pedrosa crashes out of 4th place at the SAME corner as Marquez! #RiderOK

12 laps to go! #ArgentinaGP pic.twitter.com/s4umdH0Spo

— MotoGP™ (@MotoGP) 9 April 2017