Romain Grosjean explains how the tests at Barcelona passed for Haas and what his expectations for the Australian Grand prix are.
Haas F1 Team tested at Barcelona for eight days over a 12-day span. How did it go and how did it prepare you for Australia?
"It went well. You could really see a difference from last year when we had our first winter test. The team was much more ready, everyone knew what they had to do. We had a few small problems, as you would expect, but generally everything was sorted very quickly. We got some mileage that was very good. Everyone was back to work discovering the new car. It went well. I don't think you're ever fully prepared to go to Australia with only four days driving the new car. It's the same thing for everyone, so we have to make the most of it."
How would you describe the VF-17?
"It's a pretty sexy car. It's got a lot of potential, which we haven't unlocked yet. But is a good baseline, though, and so far it feels pretty good to drive. There are a few things I'd like to improve and make better for the first few races, but I think it's a car that should give us some good races."
Much has been made about how physical these new cars are to drive. After testing in Barcelona, how did your body feel?
"I didn't feel too bad. But let's put it this way, if I'd been in the same condition as I was last year, I would have been destroyed. We pushed really hard in our training. We may actually have overdone it. It's not as bad as we thought it would be. The cars are going to be challenging and some of the races this year are going to be epic, especially where it's warm with a high-speed track, it'll be very hard on the body. I like the challenge and I like to think that we can always get more prepared and better trained. It felt good as we did the proper training. The cars are much harder to drive than last year."
Was there any particular area of your body where you felt the effects of increased g-forces?
"No. I think the whole body, in the first week of testing, was getting back used to it. The neck is painful, and the back, you're getting used to the positioning of your legs. In the second week everything feels much more normal. No real big aspects from testing, but as I said, we had pushed the training hard and that'll be the case again before Australia, before China and the early part of the season. We'll build more muscle and make sure all the areas are covered."
Tires are 25 percent wider this year, but have you noticed any change in the characteristics of the various tire compounds or have they remained consistent from last year?
"I think Pirelli did a good job in making the tires more forgiving and less sensitive to overheating. Hopefully that will allow us to follow another car closely, slide a little bit and not overheat and lose grip. Let's see if it is as we think it will be on the track. If so, we can push the car much harder and have more fun."
With lap times coming down by roughly five seconds, where is the time being found? Corner entry? Corner exit? Both?
"Both, and mid-corner I'd say as well. The high-speed is much faster and low-speed we brake later and we carry more speed. Basically everywhere except from a straight line where we're losing time."
The Ferrari 062 appeared fast and reliable in testing. How did it feel compared to last year's engine?
"It felt pretty good. Ferrari has made a good step. The drivability was very good. We haven't yet had qualifying maximum power, which you only get at the racetrack, but I've got a good feeling that this engine is going to be nicely pushing us on the straight."
Speed is obviously the name of the game in racing. But with new cars built under new regulations, how important is reliability, particularly at the start of the season?
"Reliability early in the season is always tricky. All the cars have more stress, more g-forces, and so on. All the designers have been working hard trying to understand what the requirements are and that's why we go winter testing, as well. We try to see where there are areas we can make things better. Clearly in the early season, there's always a chance that reliability is not perfect, but you can gain from that."
Haas F1 Team's debut at last year's Australian Grand Prix was pretty remarkable, with your sixth-place finish the best debut for any Formula One team since 2002 when Mika Salo finished sixth for Toyota, also at the Australian Grand Prix. Can you describe that moment and what it meant for you and the team?
"It meant a lot. It was a result we were clearly not expecting after a tough qualifying. We had a brilliant race. When we took the checkered flag, for us, it was clearly as good as winning the race. It was fortunate, but perfect."
Did that result validate your move from Renault to Haas F1 Team?
"I didn't need that to validate the move. I knew the day I signed that it was the right choice for my career. Of course, good results are always a good thing, but I was already convinced that I'd made the right choice."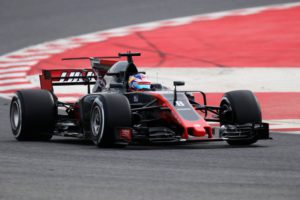 How important is it to start the year with some point-paying finishes, as it can give the team some cushion for the rest of the season when some of the bigger teams further develop their cars?
"I think this year it's actually going to be the opposite. This year, if you had to choose, I think you'd want to start slow and finish hard, and not the opposite. This is because in 2018 the cars are going to be very similar to 2017, and therefore if you're finishing on a high it means you've understood the regulations and everything's going well. Your next car will be on that trend. We really want to keep the development going and push through the year, improving race after race."
What are your goals for the season-opening race in Australia?
"I don't really set goals. Let's see how it goes. We'll do our best and, hopefully, we'll remember it as well as Australia 2016."
What is your favorite part of the Albert Park Circuit?
"I love the backstraight with the high-speed corner – turns 10 and 11."
Explain a lap around the Albert Park Circuit.
"Going down the main straight and heading into turn one, you always get the sun in your eyes. It's quite a nice corner, right inside corner, fourth gear with a little bit of inside curb then outside curb. Turn three is a bit of a tricky corner. You have to be careful on exit and well placed for the next left, which is turn four. Turn five, if you've got a good car, it's flat out. Turn seven is then a right inside corner in third gear. It's quite a good corner as well, with a bit of a tricky curb on exit. Turn nine requires big braking. Total application is very important because you've got the backstraight and you're very close to the wall on exit.
"Then you have my favorite corners between (turns) 11 and 12 and 13. It's high speed, sixth gear probably. It's a good feeling. Going into (turn) 14, you have lots of braking as you're carrying quite a bit of speed in there. (Turn) 15 needs just a bit of a lift off (the throttle), right inside corner, pretty cool to drive. You then need to be well positioned for the last braking point into the left-hand side, where it's quite tight. The last corner you want to stay flat out, but it's a bit of a tricky one with a bump in the middle.
"I enjoy Albert Park. It changes a lot during the weekend"
"It's not a permanent circuit, so the grip is changing a lot. The race start is quite late, but it's one of my favorite grand prix. It's not an easy track to get on with. It's very hard on fuel consumption as well. For the first race of the season, it's going to be interesting."
Can't wait to be back in the #HaasVF17 pic.twitter.com/VTtTYBe8ou

— Romain Grosjean (@RGrosjean) 19 March 2017