Red Bull drivers Max Verstappen and Daniel Ricciardo preview the Russian Grand prix. The race is fourth round of the 2017 Formula 1 championship and will be held on the Sochi Autodrom this weekend.
Max Verstappen:
"It's an interesting track. It has a lot of long straights but despite that fact, Red Bull Racing and Scuderia Toro Rosso have actually done pretty well on that track in the past."
"It's a special track and it's still very new. It's also in the middle of the Olympic Park and that gives a special atmosphere to it. The corners are mostly 90 degrees, which you normally never experience. It's quite a flat track and not a lot of elevation changes and some difficult braking zones. It's always challenging to come from high speed into a low speed corner and achieve the best out of it in braking. I'm definitely looking forward to go back there and have a good race."
"Last year I visited the city centre in Sochi which was pretty interesting and I found a really nice restaurant that I will definitely go back to this year. I'll keep the name secret for now though."
Daniel Ricciardo:
"Now that we've been to the track a few times I think the tarmac will be better. It's a bit like Austin in the first few years, when it took a while to bed in. But I expect this year for the track to be grippy and with these cars it should be quite fast. I would say it's going to be more enjoyable than it has been so I'm looking forward to that. It's also a pretty busy track. There is not much room to rest. Yeah there is a long straight but other than that there is quite a bit going on. It keeps you thinking."
"Some parts of the track remind me a bit of India. Kind of flat and you can take the curbs quite easily. There are also a lot of third and fourth gear corners. The layout has definitely grown on me since we started racing there."
"We're also going there a bit later this year so there is a chance of it being a bit warmer than in previous years. It's a pretty cool place. It's near the ocean and our hotel is right next to it. I've never gone into the water though because it's too cold for me."
Red Bull also pointed out some of the local superstitions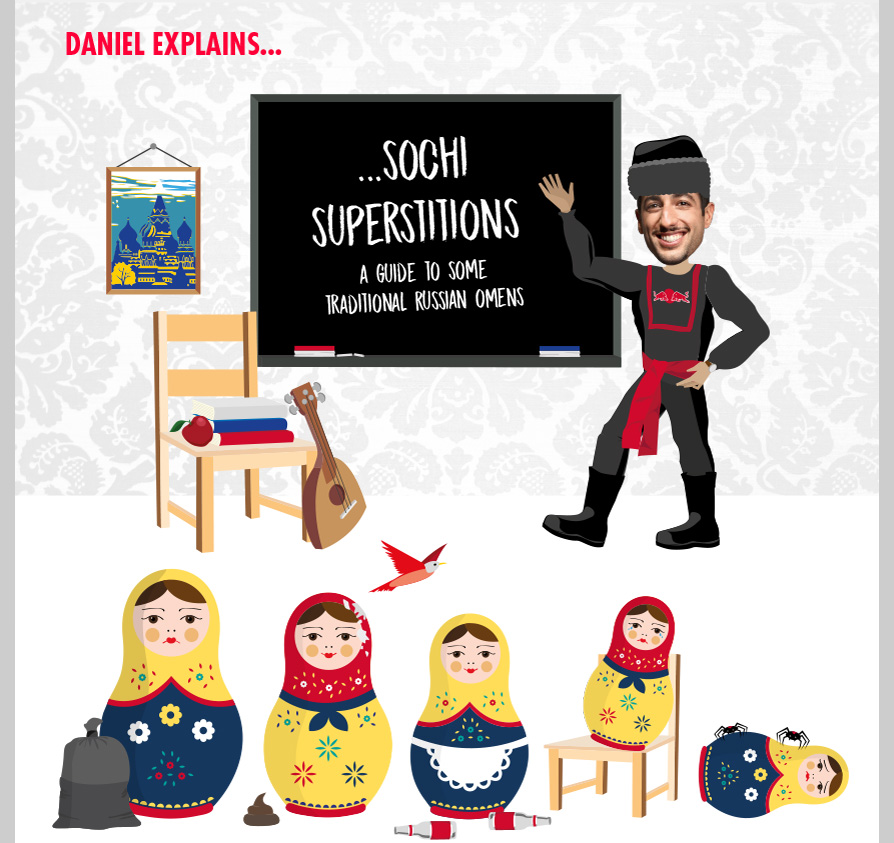 Don't take anything out of the house at night
If you live under the same roof as Russians, you would be advised not to take the trash out at night. It's believed to bring bad luck on to the house.
Accept a message from a bird or dog
If a bird poos on you or you accidentally step into some dog dirt, don't be in a rush to curse your fate. These are omens of great financial success.
Don't put empty bottles on the table
Russians believe that you must not put empty bottles on the table. These are bad omens of financial loss and tears.
Never give unmarried girls a corner seat
In ancient Russia, it was usually the old maid, poor relatives and dependants who took the corner seats at the table. An idea developed that if a girl sits at the corner, she will not marry for seven years.
Spider alarm!
If a spider appears on your clothes, don't brush it off straight away as it brings you luck.