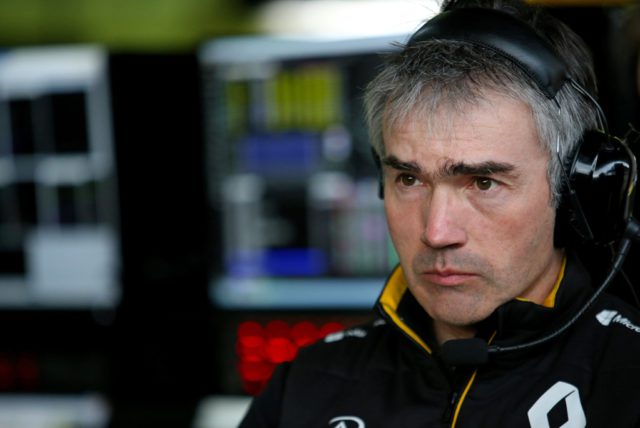 Nick Chester joined Enstone in 2000 and occupied various roles before becoming Chassis Technical Director in 2013.
Nick graduated from Cambridge in 1991 and joined Simtek Research in vehicle simulation. His first taste of Formula 1 came in 1994 with Simtek, before joining Arrows Grand Prix in 1995 for vehicle simulation and later suspension design. Nick was Performance Engineer for Damon Hill and Pedro Diniz in 1997 and then Race Engineer for Mika Salo and Pedro de la Rosa between 1998 and 1999.
Chester then moved to Benetton in 2000 as Test Engineer, working with Alexander Wurz, Giancarlo Fisichella and Mark Webber
Nick advanced to Performance Engineer for Fisichella in 2001 and Jarno Trulli in 2002-2004, contributing to the Italian's sole Grand Prix win in Monaco in 2004.
2005 saw him step up to Head of Vehicle Performance Group (VPG), playing a part in Renault's double championship wins of 2005 and 2006, including the development of the tuned mass damper system, which was a major innovation during that era.
Nick became Head of Performance Systems in 2010 and then Engineering Director in 2011. He contributed to the development of the race winning E20 and E21. Nick then took the role as Technical Director responsible for the design and development of every Formula 1 car to come out of Enstone since 2013, including 2019's R.S.19.
There has been significant evolution of the regulations, which were born from last season where cars couldn't race closely together due to large downforce losses in aero wakes. The main changes for 2019, after discussions between the teams and the FIA over the course of last season, are a 200mm wider and simpler front wing, a change to the front drums, lower bargeboards and a bigger, wider and higher rear wing with increased DRS. It wasn't a straightforward process in terms of interpreting the rules. We lost downforce in the early stages of the development. We've aimed to improve the overall packaging of the car, and notably to make the car lighter. We have a little more ballast to play with due to the minimum driver weight changing to 80kg.
What new resources has the team been able to harness for the creation of the R.S.19?
The whole capacity of the team has come up. The current infrastructure is top-level with better machining centres for chassis machining where we can work to tighter tolerances. We've made improvements to the wind tunnel, we have a paint shop on site, which means we can push things later and still have top quality finish. The new clean room is fantastic, it's double in size from its predecessor, making composite lay-up more efficient and that's helping us push to get the car ready. All over the factory there have been improvements and at the same time we've been building the engineering capabilities of the team. We're still recruiting, enhancing our work processes and the organisation is strengthening all the time.
How much have the drivers influenced the development process of the car?
Nico is very good to work with because he's clear with what he wants from the car. He knows the solutions we can give him that will make him go quicker. It's very good talking to Daniel, he's new to us and we're new to him but he's very open and his initial feedback is quite close to Nico's. What we're trying to put into the car should work for both of them. The closer they are with feedback, the easier it is to develop the car. It's an incredibly strong line-up. They are both quick, they work hard and have great feedback.