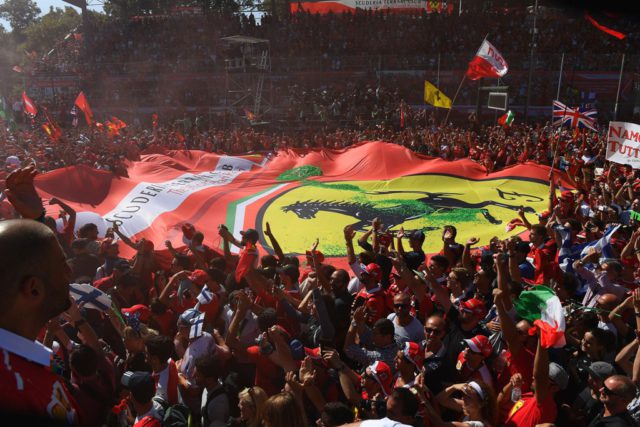 A special exhibition comprising of the 25 exclusive paintings celebrating seventy years of Ferrari will be launched at the prestigious Royal Automobile Club Pall Mall clubhouse on Tuesday 5 February 2019.
'Ferrari in Art – The Sporting Legacy' celebrates everything Ferrari
The cars, the drivers, the history and most importantly of all, the PASSION! Ferrari has an unrivalled, unbridled position in the automotive world and sits in a unique place embodying the very essence of beauty, design, speed, style, class and winning. The newly commissioned series of artworks by Mark Dickens in Collaboration with Keith Sutton encompasses all these lauded features.
Keith Sutton relentlessly tracked down all the influential individuals having an association with Ferrari. For each painting, drivers, owners, fans and motorsport personalities expressed in their own handwritten words what the name 'Ferrari' means to them. The unique quotes were over 125. Then artist Mark Dickens worked tirelessly to create the 25 pieces of artwork. The outcome provides a unique, contemporary and historical piece of Ferrari history and art.
Just reading the names of those that have contributed is like a 'Who's Who' of Ferrari
They are from the Designers who helped create the dream to World Champions who realised the dream. From Team Principals who guided the dream to Collectors and Owners who live the dream. From Engineers who maintained the dream to the die-hard fans who love the dream!
Those contributed include: Piero Ferrari, Bernie Ecclestone, Nigel Mansell, Fernando Alonso, Sir Jackie Stewart, Felipe Massa, Jean Alesi, Ross Brawn, Toto Wolff, John Barnard, Mario Andretti, Gerhard Berger, Pedro de la Rosa, Rubens Barrichello, Zak Brown, Patrick Tambay, Brian Redman, Dario Franchitti, David Hobbs, David Piper, Derek Bell, Gordon Ramsay, Jo Ramirez, Stefan Johansson, Murray Walker, Nick Mason, Martin Brundle, Richard Attwood, Johnny Dumfries, Tommy Hilfiger, Joe Macari, Alastair Caldwell, Herbie Blash, Daniele Audetto, Charlie Whiting, Cesare Fiorio, James Allison, Luca di Montezemolo, Andrea Stella, Benjamin de Rothschild, Ian Poulter, Brenda Vernor, Paolo Martinelli, Dani Alvis, Enrique Scalabroni, Ercole Colombo, Marco Piccinini.
Among the contributors are also Giorgio Piola, Hiroshi Yashikawa, Ivan Capelli, Jean-Eric Vergne, Junichiro Hiramatsu, Lawrence Stroll, Luca Baldisserri, Marc Gene, Mika Salo, MOKO, Mamma Rosella, Tom Hartley Jnr, Nicholas Tombazis, Olivier Beretta, Pat Fry, Paulo Barilla, Pino Allievi, Rob Smedley, Rory Byrne, Stefano Domenicali, Enzo Fittipaldi, Mohammed Bin Sulayem, Tim Schenken, Umberto Zanasi, Andrea de Adamich, Charles Leclerc, Sebastian Vettel.
Renowned British Formula One artist Mark Dickens shot to acclaim in the United Arab Emirates and Europe
His work is in the Royal collections of H.H Sheikh Hamdan Bin Zayed Al Nahyan as well as at numerous Grand Prix circuits and collections around the world. Bernie Ecclestone commisioned him in 2011 to be the official Formula One artist creating a painting for every Grand Prix. His artwork involves collaborations with people and places which take the visual format of mixed media, building layer of photographic transfers, paper, gold leaf, fabric, paint and handwritten texts set in resin. The various textures of the composition are tactile.
Mark Dickens said "In 2014, Keith Sutton and I collaborated to create 'World Champions in Art' which comprised of 32 paintings, one for each Formula 1 World Champion. The entire collection was purchased by four-time World Champion Sebastian Vettel. Keith and I are both looking forward to unveiling our latest project".
Speaking of the project Keith Sutton said "It has taken over 9 months to obtain the handwritten quotes from the various personalities associated with Ferrari; however everyone that I approached was genuinely enthusiastic and delighted to take part in this unique project. Each piece of artwork provides a fascinating and personal insight into Ferrari. It's been a labour of love for us both. The design concept is so unique, that I doubt it will ever be repeated".
Mark and Keith will also be donating a limited edition 'Ferrari in ART' box set of 25 prints to Sir Jackie Stewart OBE to help raise funds for his personal charity RACE against DEMENTIA".
The organizers shared some of the quotes
"My father would have liked Ferrari of today?
Tough and demanding, as a father and as a boss, capable of gestures of great and unexpected generosity.
Courageous and innovative, always looking to the future decided to set up the "Scuderia" in 1929 the year of the great crisis and the project of creating a car factory in Italy still living in the ruins of the Second World War.
My father was interested to the future, not to the past. Not just interested in the cars of the future but on all new technologies from which top take imagination for future projects. For sure he would have been enthusiastic about the "internet era", but unfortunately died before.
It's precisely because of the father total determination to look ahead and his saying that the best Ferrari was yet to come, that my father have liked what the company has become today.
Piero Ferrari
Son of Enzo Ferrari
"Ferrari is a team with an incredible history. My first day at Ferrari made me realise the history is with the people, not the cars, not the buildings. Workers who were third generation, their Grandparents had worked for Enzo. During my time there we managed to harness the unbelievable passion in the people – the results came. That is the true legend of Ferrari!
Forza Ferrari
Ross Brawn OBE
Former Ferrari F1 Team Principal 1997 – 2006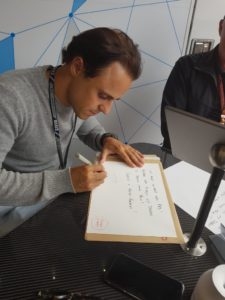 "My first Go Kart was red!
Ferrari was always my dream. So dreams do come true!
Grazie e Forza Ferrari!"
Felipe Massa
Former Ferraro Formula 1 Driver 2006 – 2013
"My first meeting with Mr Ferrari was strange; because of his lack of English and my lack of Italian. But, with the help of Mr Gozzi, we managed very well and became close, probably because he trusted me, and I trusted him. Even when we had the FOCA/FIA war, behind the wall, he supported me. Although he always referred to the English teams as garage people, he had big respect for Colin Chapman of Lotus. He liked people to think that he supported the FIA as that was the legal establishment but was always happy with the deal that we closed together. I really miss this real gentleman, Mr Ferrari. He could be relied on to do what he promised.
Bernie Ecclestone
Former Chief Executive of the Formula One Group
"The name Ferrari is a brand like no other!
I drove for Ronnie Hoare of Maranello Concessionaires quite a few times, but my best memory of driving a Ferrari was in the P4 when with Chris Curan we secured the World Championship for Ferrari in 1967 – what a car!!"
Sir Jackie Stewart OBE
World Champion 1969, 71, 73
"Driving for Ferrari was an honour and a privilege, with so many cherished memories.
Also to be nicknamed "Il Leone" by the Italian fans was very special.
Ferrari is a family second to none –"
Nigel Mansell CBE
Former Ferrari F1 Racing Driver 1989 – 1990
"Ferrari means pure emotions. I am so proud of having been a part of these emotions and even more so as I was the last Ferrari F1 driver that negotiated the terms of his contract with Enzo Ferrari himself"
Gerhard Berger
Former Ferrari F1 Driver 1987-1989 and 1993 – 1995
"Why Ferrari?
If you saw one on the motorway when you were five or six you never forgot it.
My dream was to win three Michelin Stars and own a Ferrari.
I can see the synergy between what I do and what happens at Ferrari"
Gordon Ramsay OBE
3 Star Michelin Chef and Ferrari Owner
"My admiration (no, its more like pure love) of Ferrari began when I was a child growing up in Italy. I was a true fan. The most influential person to me at the time was Alberto Ascari, World Champion for Ferrari. Later, when I had the chance to drive and win for Ferrari factory – as well as have a personal relationship with Enzo Ferrari – it was incredible. Today Ferrari is at the top of the list of unforgettable experiences in my life. I don't think there is anything more prestigious for a professional racing driver than to say you drove and won for Ferrari. It has extreme special meaning all across the globe. You can talk about Ferrari anywhere in the world and everyone knows the esteem"
Mario Andretti
Former Ferrari F1 Driver 1971, 1972 and 1982
1978 F1 World Champion
"After my family, Ferrari is the most significant part of my life. Ferrari means Passion, Advanced Technology, Exclusivity and Beauty"
Luca Montezemolo
Italian Businessman, former Chairman of Ferrari 1991 – 2014, and formerly Chairman of Fiat S.p.A. and President of Confindustria and

FIEG

"Ferrari!

That unique and magical mix of Technology, Romance and Sporting Commitment – Oh and I didn't mention the sound…!"
Nick Mason CBE
Ferrari Collector and Owner of a 250 GTO 
'Disciple' – Drummer with Pink Floyd
"Tricolore, emotion, passion, heritage and high tech! At the end we are all Ferrari Fans!
Toto Wolff
Team Principal & CEO of Mercedes AMG Petronas F1 Team 
Ferrari Collector
"The privilege of spending eleven years working for a Man who had the dream of becoming Enzo Ferrari, became Enzo Ferrari, but never took himself for Enzo Ferrari….."
Marco Piccinini
Ferrari Team Principal 1978 – 1988