DS TECHEETAH has announced that they have extended their contract with the reigning Formula E champion, Jean-Eric Vergne.
"We are delighted to announce that we have agreed a new long-term contract with Jean-Eric. He has played a crucial part in our success to date with the Drivers' Championship title being a special moment for all of us. Jean-Eric has been with us since season three and he's been an important pillar in building the team together with the management and we're very excited about being able to announce our continued partnership. Having two wold-class drivers on board is essential for our continued goal of working toward further championship wins," said DS TECHEETAH President, Edmund Chu.
"First of all, I'd like to say a huge thanks to DS TECHEETAH for always having believed in me and for keeping their faith. DS TECHEETAH has been my home and my family for the last couple of seasons. So it's fantastic to be able to continue racing together with them. We achieved something incredible last season winning the Drivers' title, and everyone is hungry for more. There are so many variables in racing. So having the contract extended now is a great for both me and the team as we can now look at a long-term strategy together", said Jean-Eric Vergne.
"We are aiming for more success together as a team and this is just the beginning. But first, we have the Ad Diriyah E-Prix tomorrow and it's going to be very exciting to see where we end up, the track looks great and I love driving the DS E-TENSE FE19 so let's go racing!"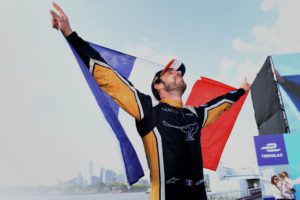 Vergne extends his contract with DS TECHEETAH
"This long-term commitment between DS TECHEETAH and Jean-Eric Vergne is a great satisfaction for the entire DS Automobiles team. Beyond his speed and his experience in the series, Jean-Éric is a magnificent ambassador for the brand. Together with André Lotterer, we definitely have one of the best driver line-ups on the grid to bring the DS E-TENSE FE19 to the top. It is extremely motivating and it helps to accelerate the development of tomorrow's DS electric technologies," said DS Performance Director, Xavier Mestelan Pinon.
? Big News today! Super happy to tell you that I signed a multi year deal with @dstecheetah ! A big thanx to all my team to always believe in me, great future ahead of us! @dsperformance #JEV25 #DSTecheetah pic.twitter.com/yqMk0GA1kZ

— Jean-Eric Vergne (@JeanEricVergne) December 14, 2018