Carlos Sainz and Lando Norris had their first days as regular drivers in McLaren at the Yas Marina Circuit test after the last 2018 Grand prix.
Norris got behind the wheel of the McLaren MCL33 for the first time since the first free practice session on Friday morning in Brazil. He completed 136 laps and set the sixth-fastest time of the first test day.
"I think this was the most laps I've ever done in a day, so it was good. I got through a lot of the things I needed to, such as longer runs – which I haven't done much of so far. So considering all that, I don't feel too bad. I haven't really felt the degradation of the tyres before, so that was one of the biggest things I wanted to get through", Norris explained.
"I'll have a bit more experience for next year now, of tyre drop-off and things like that. I also wanted to put a few other things together, such as practice starts and giving feedback."
"It did feel a bit different, realising that a lot of the stuff we did was for my own good and things that will really benefit me a lot next year. I'm now trying to get everything based around me rather than the other drivers like in the past as Test Driver, so it definitely did feel a bit different. I really wanted to focus on trying to make it the best I could for me, so it was useful."
— Lando Norris (@LandoNorris) November 27, 2018
Sainz stepped into the cockpit of the McLaren MCL33 for the first time in his McLaren career for the second and final day of the post-season Abu Dhabi tyre test
That new chapter with McLaren started positively as he completed 150 laps, setting the fifth-fastest time of the day. He spent time adapting to the controls and settings of the car, as well as learning the relevant processes and procedures to enable him to feel comfortable behind the wheel. In addition, he performed valuable tyre evaluations, comparing both the 2018 and 2019 Pirelli compounds.
"Going out of the garage on my first day as a McLaren driver was pretty much a dream come true. When I finally completed my first run I felt extremely good, and I must say it's been a very straightforward day", Sainz said.
"The team has made me feel at home from lap one and from day one when I started working with them. I did a lot of laps and I'm grateful to the team for giving me such a reliable car to be able to initiate me in this new chapter and new style of car."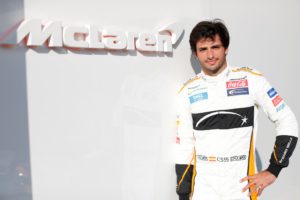 "From the first lap to the 150th lap, I enjoyed them all"
"The feeling was good and we've been able to end the season in the best way possible. As soon as I got out of the box I felt comfortable in the car. Of course, there are always going to be details to improve and new things to adapt to, like the seat and the driving style, but from the first lap I could spend time adapting and getting to know all the new controls and procedures. It's been great."
"It's been an intense few days after the race finished here in Abu Dhabi, learning a lot of names and understanding how the car works. I'm looking forward to spending more time back at the factory over the winter getting to know the team better and preparing as much as we can for 2019."
Dear @McLarenF1,

Getting to know a new driver can be tough. But don't worry, we've got your back. Here's a @Carlossainz55 How-To manual with advice from your friends at @RenaultSportF1 (and a little bit of @ToroRosso too)!#RSspirit #RenaultFamily pic.twitter.com/YXhrKQ4GD2

— Renault Sport F1 (@RenaultSportF1) November 28, 2018
The end of the #AbuDhabiTest marks the end of the 2018 season and a goodbye to the MCL33. A big shout out to all of the team, at the track and back at the factory, who have worked relentlessly this season. ? pic.twitter.com/51n4YU7CpD

— McLaren (@McLarenF1) November 28, 2018