Ahead of this weekend's US Grand Prix and the Formula 1 Fan Festival in Miami, Florida Red Bull took on one of its toughest ever high-rise challenges. There was a smoking series of donuts at one of Miami's most iconic new towers – the 700-foot high 1000 Museum building.
Three years in the making, the stunning residential skyscraper is the work of the late Pritzker Prize winning 'starchitect' Zaha Hadid. It is close to completion. And to pay homage, Red Bull and team innovation partners Citrix took over the tower's high-rise helipad. They had a special purpose – to fire up the double title-winning RB7 for some spectacular donuts.
Citrix organised the stunt to promote its innovative technology platform that allows people to work anytime, anywhere. It also ensures that a secure, unified workspace is wherever you need it to be.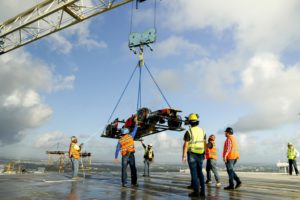 However, with such a tight space to work with, the stunt would require incredible nerve and careful planning
In order to make it happen, Red Bull called in one of the very best in the business. That was Red Bull ambassador and 13-time grand prix winner David Coulthard.
"Citrix and Aston Martin Red Bull Racing have made it possible to come to the 1000 Museum building and do what I think is an iconic stunt," he said afterwards. "I think, to coin an American phrase, that was awesome!"
"Aston Martin Red Bull Racing are a world championship-winning Formula 1 team and we've done show car runs all over the world, the most recent one was in Vietnam and we've done something similar to this in Dubai. I have absolute trust in the Team and that is the key to being able to do stunts like this."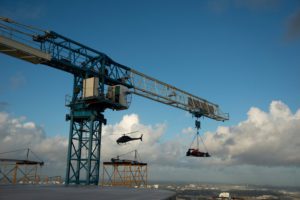 Coulthard added that the spectacular stunt would also hopefully help promote F1 in the United States
"It's absolutely fantastic to have an opportunity to come to America, to come to Miami and to be at the top of the 1000 Museum building, to be here on behalf of Citrix and the Team to help promote Formula 1 in the States."
Going all the way up in Miami ☝️?? #givesyouwings pic.twitter.com/o3ZOL79gdy

— Red Bull Racing (@redbullracing) October 17, 2018