For decades, Formula One has been dubbed the "fastest R&D lab on Earth". The notion was that motor racing technology would sooner or later trickle down to the road car world. While that was certainly the case for some innovations and inventions, it was not necessarily true on a large scale. The challenges of Formula One were often too specific or the cost for industrial-scale production too high to introduce certain technologies in production vehicles. This, however, has changed in recent years.
Since the introduction of full hybrid powertrains, F1 technology has become more relevant for road cars than it has ever been before. But it is also true for other parts of the car – especially in the world of bits and bytes. Here is the third of five reasons, presented by Mercedes, why now, more than ever before, Formula One is at the forefront of technology – from road cars to consumer electronics, from medical technology to smart cities.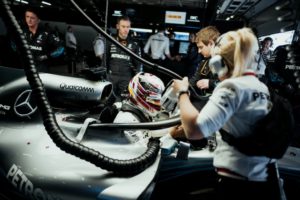 A challenging environment – testing high-tech in Formula One
The life of a typical server rack is pretty easy. They spend their days in air-conditioned, access-controlled data centres. This way they do not have to worry about heat or cold or even moving around. However, that's not true for the servers that travel with the team.
The racks in the garage store all the car data and are of vital importance. And yet they have to cope with all the things that high-tech servers usually don't like. They are frequently packed up and shipped around the world, they have to endure temperature swings from just above freezing during winter testing to the sweltering heat in the desert of Bahrain, from the dry air of Abu Dhabi to the humidity of Singapore. Vibrations and carbon fibre dust are also quite common in the garage, neither of which are friends of computer hardware. At the same time, the data on those servers needs to be quickly accessible as well as encrypted on the spot.
So compared to a "regular" server in a data centre, the life of a trackside server is quite different – and quite challenging
It is precisely those challenges that make Formula One interesting for high-tech partners such as Pure Storage, the company that builds the on-track server. It's not just server technology that is under challenge by F1 – it's all kinds of technologies. Even those that seem to have nothing to do with Formula One. So while F1, for example, will – hopefully! – never become an autonomous racing series, its race cars are an ideal test bed for certain technologies that are vital to autonomous driving. The sheer amount of data that needs to be processed locally on the car or sent to the garage make F1 cars a particularly interesting test environment in this regard.
Flash array servers tested in the team's garage are suitable to be put on airplanes and cruise ships or can be used as mobile data centres on trucks. But the technology transfer goes much further into non-related areas. For example, technology partners have applied the learnings from their cooperation with the team to medical customers. The challenge in the garage is getting a huge amount of data from a machine – the car – into computer systems. There the data can go through the necessary analysis. People can find a very similar kind of challenge in a modern hospital and in medical research institutes. There, specialists have to transfer and analyse large amounts of data from machines such as gene sequencers or X-ray machines.