Swiss racer Sebastien Buemi and U.K.-based Alex Albon will drive for Nissan when the global electric vehicle sales leader makes its debut in the ABB FIA Formula E Championship in December.
Nissan's Formula E program will show a new "performance side" of Nissan Intelligent Mobility. That is the company's vision for changing how cars are powered, driven and integrated into society. Nissan is the first Japanese company to join the electric racing championship series. The company will draw on its proven experience as the all-time world leader in electric cars. It has sold more than 350,000 Nissan LEAF vehicles since introducing the model in 2010.
Buemi, 29, spent the past four seasons as a driver with e.dams. The team is now Nissan's Formula E racing partner. He will debut in Nissan colours aboard the company's new Gen2 Formula E car at next month's series open test in Valencia, Spain.
Buemi's past accomplishments include taking the 2015/2016 driver's championship. He also set series of records in Formula E. Buemi has most wins, most pole positions, most fastest laps, most consecutive wins, most wins in a season, most consecutive point-scoring finishes as well as most laps led and most races led.
"Season five will be a whole new beginning for me in many ways," Buemi said
"There's so much that's new – the cars, the race format, the venues. I look forward to continuing to work with e.dams and bringing the excitement of Nissan's world-leading electric vehicle technology to motorsports fans all over the globe."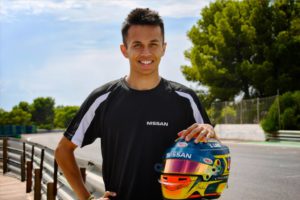 Albon, 22, will make his Formula E debut with Nissan after impressive performances in the international junior single-seater categories. He finished second in the 2016 GP3 series and is currently third in points in this year's FIA Formula 2 championship, with three wins.
"The level of competition in the series is intense, and I'm looking forward to testing myself against some of the best drivers in the world," Albon said. "Electric street racing will be a new challenge for me, but working with Sebastien as my teammate will be a huge help, as he has set the benchmark for performance in the series."
From today, I'll be starting a new chapter in my career! Extremely excited to be competing in @FIAFormulaE with Nissan e.dams. A big thank you to @damsracing and of course @nissan for their trust in me. A lot of things to learn but I can't wait to get on with it!#NissanFormulaE pic.twitter.com/wm0UeKqWTW

— Alex Albon (@alex_albon) September 20, 2018
Nissan will make its Formula E debut in the first round of season five
It will take place Dec. 15, 2018, in Riyadh, Saudi Arabia. Races will follow in Marrakesh, Morocco; Mexico City; Hong Kong; Sanya, China; Rome; Paris; Monte Carlo, Monaco; Berlin; and New York. Additional races are scheduled for Jan. 26 and June 9, 2019, at venues to be announced.
"Sebastien's impressive record in the Formula E championship speaks for itself. Pairing him with a young star like Alex is a great combination," said Michael Carcamo, Nissan's global motorsports director. "We can't think of a better team to showcase our innovative technologies and our Nissan Intelligent Mobility vision."
Jean-Paul Driot, principal of e.dams, said: "Sebastien has been an important part of the e.dams team since our first Formula E race four years ago in China. We know Alex well from his performances with DAMS in Formula 2. And we're excited to bring his talent into the Formula E championship."
Which @Sebastien_buemi are you today? ? pic.twitter.com/TPJDUw3AsT

— ABB Formula E (@FIAFormulaE) September 3, 2018